Richie Feathers, Staff Writer
On the breakout hit "Hold On," Brittany Howard was surprised she lived to be 22 years old, while audiences couldn't believe her voice was from someone so young. Slinky, strong and belying her age, the Athens, Alabama native's impassioned delivery led the track to become Rolling Stone's top single of 2012.
Although steeped in tragedy (her sister died at a young age), Howard's playful candor resonated throughout Alabama Shakes' debut, Boys & Girls. A tour de force of Southern roots and blues rock, the album garnered critical and commercial acclaim, and introduced a new powerhouse to world stages.
On their followup, Sound & Color, Alabama Shakes carry over the debut's playfulness, though more in a determination to expand their sound and flex their creative muscles.
The result is a polarizing and compulsively enjoyable listen.
Sound & Color is a darker answer to its predecessor, both musically and thematically. Whereas "Hold On" began Boys & Girls with an uplifting anthem, Sound & Color's title track opens the record with echoing vibraphone and discordant strings, Howard, now 26, looking out at an uncertain terrain: "A new world hangs/Outside the window/Beautiful and strange."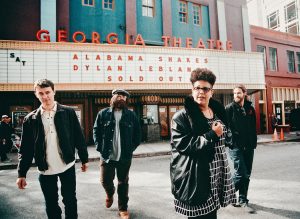 The band – Zac Cockrell (bass), Heath Fogg (guitar), Steve Johnson (percussion) and Howard on guitar – charters through a landscape of deeper cuts from music's history. They channel early-70s Bowie on "Dunes," plow through garage rock ("The Greatest") and leave their roots behind on "Gemini," a late-album cut of thick psychedelia and distorted guitar.
Lyrically, Howard maneuvers her way through existentialism, unrequited love and the summits and setbacks of life on the road.
At first, the record's departure, hinted at by the midnight funk of lead single "Don't Wanna Fight," is startling. But it's hard not to roll with the changes when the highlights are so inescapable.
"Gimme All Your Love" is a heavy blues rocker, Howard's vocals shredding the verses of their tenderness – and made even more powerful placed next to the spare "This Feeling," a lilting acoustic stunner. Elsewhere, "Shoegaze" shimmers with effortless joy and "Future People" sounds like Janis Joplin writing home from space.
Although rehashing the debut's Southern charm would have been welcomed, Sound & Color proves pushing boundaries and trying everything is much more the style of Alabama Shakes.
And perhaps that's the only style that can be used to pin them down at this point, because the album shatters any expectations about what it should have sounded like, not to mention where the quartet will go next.
Key Tracks: "Future People," "Shoegaze," "This Feeling"