Marielle Genovesi, Arts Editor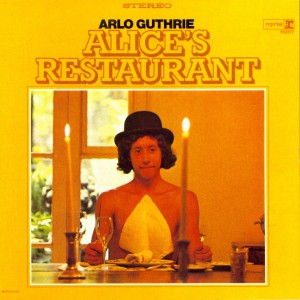 While the entire commercial universe enjoys skipping through Thanksgiving and getting right to Christmas, nothing beats a holiday solely dedicated to remembering all you're thankful for – and literally gobbling up all the dinner you can possibly fit in your stomach. Here are a few tunes to get you in the thankful kind of mood for the trip home for break, or to stop you from turning on the Christmas music just yet.
1. "Alice's Restaurant," Arlo Guthrie. Although this song is decades old, it is arguably one of the best 18-minute long songs you will ever listen to.  Guthrie tells a story about a Thanksgiving Day full of a series of unfortunate events, including an arrest. My family listens to it every Thanksgiving, and without fail it warrants a ton of laughs every time.
2. "The Thanksgiving Song," Adam Sandler. Another song that appeals to the comedic soul. The lyrics of the song are easily parroted and make for an easy and invigorating sing-along on the way to a Thanksgiving feast.
3. "Thnks Fr Th Mmrs," Fall Out Boy. One of the most popular pop-punk songs of the last decade, the song may refer to a collapsing romance, but hey, it says thanks for the memories, so it works for me.
4. "What a Wonderful World," Louis Armstrong. One of the sweetest tunes in jazz, its message teaches you to love life – and what is more important than being thankful for life, I am not really sure.
5. "Thank You For Loving Me," Bon Jovi. The early 2000s tune is a classic love ballad, and it's obviously best sung to your sweetheart during Thanksgiving. Let them know how thankful you are that they put up with you.