Richie Feathers, Managing Editor
Becoming the concert opener fo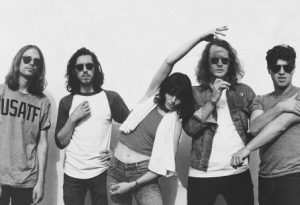 r The Rolling Stones is no easy feat. Yet, The Preatures achieved this lauded position even before the release of their first full-length album–sometimes all it takes is a great song.
These Aussie alt-rockers delivered a hit last year in "Is This How You Feel?," an infectious burst of retro, guitar-driven rock that showcased the band's spirit and front woman Isabella Manfredi's resilient power. And this bright appeal is present on their recently released, highly-anticipated debut, Blue Planet Eyes.
Although they have been garnering critical and commercial acclaim in their homeland of Sydney for years, The Preatures are no strangers to the states, having already impressed at American music festivals and performed on late night television. The quintet also recorded Blue Planet Eyes in Austin, Texas with Jim Eno (Tennis, Wild Cub), drummer for the alt-rock supremo band, Spoon. Eno's touch is clear throughout, but the album belongs completely to The Preatures.
Blue Planet Eyes builds on the promise of "Is This How You Feel?," constructing a thrilling set of ten tracks. Manfredi injects each with contagious energy, but Gideon Benson (vocals/guitar), Jack Moffitt (guitar), Thomas Champion (bass) and Luke Davison (drums) are all crucial to the band's sonic success.
From pop ("Somebody's Talking"), to soul ("Rock and Roll Rave"), to ambient ("Two Tone Melody"), the quintet scans the field of popular music, grabbing what appeals to them and mixing it all together. As a result, Blue Planet Eyes is a staggeringly enjoyable listen and one of the best debuts of the year.
"Cruel" is a short, stunning burst of alt-rock perfection, each band member demonstrating their musical strengths. But it's penultimate track "It Gets Better" that affirms The Preatures' deserved slot as openers for The Rolling Stones. With a big guitar riff and soaring vocals, it's the summer hit that never was–luckily, it'll still sound fresh in 2015.
By the end of their run with the Stones, The Preatures should have no problem finding the notoriety they deserve. However, Blue Planet Eyes is a rare album that proves they could have achieved it on their own anyway.