Hannah Griesel, Staff Writer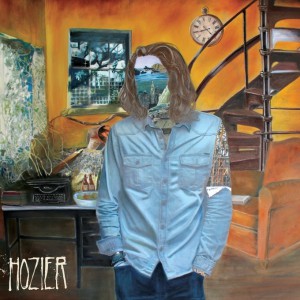 Hozier's viral success came as a surprise to everyone, including himself. In September of 2013 he released "Take Me to Church" on YouTube, a bluesy folk-rock single accompanied by a video detailing vicious attacks on homosexuals under Russia's current legislation. The page was popularized by Reddit and has since accumulated over 17 million views. Hozier's hit has continued to gain momentum ever since, he appearing on multiple late night shows including Saturday Night Live in mid-October.
In the midst of the success of "Take Me to Church," Hozier's self-titled debut album arrived on October 8 to high expectations. Almost too perfectly, "Hozier" meets these expectations, debuting at No. 1 on Billboard's Top Rock Albums and at No. 2 on their Top 200. (Interestingly, the album has been holding the No. 1 spot on the Irish charts, causing U2's album to not debut at No. 1 for the first time since 1987.)
The album begins with "Take Me to Church" then seamlessly transitions to a few equally powerful songs. "Angel of Small Death and the Codeine Scene" and "Jackie and Wilson" are bluesy and soulful, almost hinting at western and R&B.
"Someone New" disguises itself as a love song (and it seems it has tricked quite a few reviewers.) In this track, Hozier acknowledges how he hurts his lover by falling in love with someone new every day, but reminds her, "You knew who I was." Perhaps the power of this song is the fact that you could dance along to it, despite the fact that it discusses the person that is being hurt by this happiness.
All tracks seem worthy of being on the album. The diverse nature of his sound can leave people walking away with vastly different favorite songs simply based on their taste, without having to disqualify tracks that are not up to par musically or production-wise.
"In A Week," featuring Karen Cowley, pays homage to his hometown of Wicklow Hills, Ireland with a distinct Irish folk sound. Hozier said to Sound of Boston last May that his town name is usually only mentioned before or after "a body was found." However, the song manages to make the idea sound beautiful, providing imagery of him and his lover laying there so long they "become the flowers."
"Sedated", "Work Song" and "Foreigner's God" make up another sound of the album–one that is darker, with a steady beat and barely a hint of the folk and blues that make up the majority of the album. Although favorites are up to interpretation, "Work Song" is sure to be a contender for many. It's a dark, morbid and oddly pleasing love song–a promise to a woman who loves him despite his many flaws and he loves her even more for that. ("No grave can hold my body down/ I'll crawl home to her.")
Reviews of "Hozier" are overwhelmingly positive. Annie Zaleski for A.V. Club writes that Hozier's strength is in discussing opposing parallels: "How romance can be at once restorative and destructive, how people are both inherently good and evil, and even how beauty can emerge from death." It could be that, partnered with the fact that his music is equally as interesting as his concepts, that make this record such a success.