Campus News
Terrance Mcleod and Tyriq Butler
Staff Writers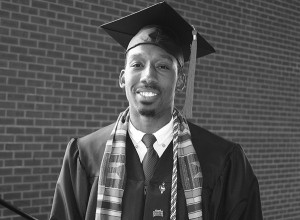 On Monday, September 8, Terrence Emanuel Parker, a 2014 graduate of SUNY Oneonta, passed away after falling into a week-long coma. The following day, students led a candlelit vigil in his honor in the quad; there was an outpouring of support from students, faculty and alumni. From the stories shared, it was clear that Parker touched everyone he encountered. The similar themes in each story were of genuine, exported love. According to his fellow students, Parker had a fascination with putting others first and always dishing out sincere encouragement to those around him.
SUNY Oneonta junior Joel Bruno recalled one of his experiences with Terrence. "One day, Terrence and I were running in the gym and I was tired. I asked him how he could keep going and he replied, 'When I was 14, my father lost his legs and from that day I told myself I'm going to run until I can't anymore.'" Joel asked a rhetorical question to the crowd after sharing this story, "How can you not be motivated by this?"
In what seems like one of the most bizarre and heartbreaking experiences of her life, Tiffany Johnson, Parker's girlfriend, was able to find strength and speak volumes to everyone gathered at the vigil. After informing everyone of how much Parker dearly loved everyone present, she went on to say that his drive and motivation always kept her afloat. Regardless of the struggles they experienced, one thing that always remained was his confidence in her as a person. She then went on to say that he showed this same confidence in everyone. Parker didn't hold grudges–he rooted for everyone to succeed.
Parker played three years with the SUNY Oneonta men's basketball team. During his senior year, Parker served as a volunteer assistant coach. Men's basketball coach Vincent Medici said, "Terrence was always thinking of others." Parker took a year off to care for his father, so when he had one more year to play he went to Medici and said, "I know I have a year of eligibility left, but I feel like its time to let the younger guys play, Coach. I just want to focus on graduating." Medici subsequently offered him the position. He raved about Parker's eagerness to learn and his positive energy.
SUNY Oneonta Sports Information Director Geoffrey Hassard said Parker worked with his oldest son at Medici's basketball camp. Hassard explained that as a father it was awesome to see someone care so much, to take the time and help his son learn the game.
SUNY Oneonta senior and former teammate, Frankie Kelley, said Parker was the hardest working teammate and best motivator he had the pleasure of playing with. Kelley went on to say, "After coach would yell at a player, he would be the first guy to come over and tell you it was okay and to shake it off. He always had the right thing to say."
During the three years Parker played for the men's basketball team, he played a total of 64 games and scored 208 points. But what he will be remembered for most is his positive attitude and the impact he made on the lives of those around him. He may have lost his battle with the coma, but he surely won his battle with life. After being subject to a series of detrimental occurrences, the level of poise and motivation he displayed were greatly noted. On and off the basketball court, Parker was known to "go hard." Surely his legacy will live on forever in the hearts of everyone who knew him.