Kelly Spencer, Copy Editor
Wednesday, September 10, marked this year's first Jazz Night at the Black Oak Tavern. If this is your first time hearing about Jazz Night, you've been missing out big time. Nearly every Wednesday at 10:30 PM, the SUNY Oneonta Jazz Octet takes the stage at the Black Oak, and has been doing so for years. The band is currently comprised of seven students led by Professor Rob Roman, who personally graced the stage for a few songs on Wednesday, tearing it up on the keys. The students in the band are all outrageously talented musicians and exemplify what differentiates Oneonta from other college towns; the music scene.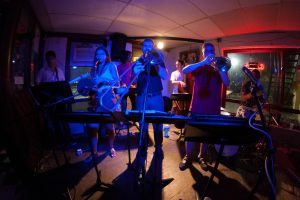 A major factor that should be accredited for the college's musical repertoire is the music industry program. Guitarist in the Jazz Octet, senior,and music industry major Russell Somer got interested in the group freshman year, playing on stage when a guitarist was needed. Last year when the Octet had an opening for a full-time guitarist, Somer jumped at the opportunity; "The octet usually only changes it's lineup when it's members graduate or in rare cases when a member quits. We're encouraged to stick with it, that way we learn as much as we can as a group," said Somer in regards to how the band maintains its members.
This makes sense, considering the impressive cohesion the band displays on stage; they sound as if they've been playing together for much longer than a few years. Somer's devotion and passion represent that of the band as a whole; "I personally love playing live more than anything, and playing in a jazz octet challenges me more than any other band I play in. For me, there is a very special satisfaction from playing jazz because I've worked very hard the past few years practicing to be able to play this kind of music, so when people say they enjoyed the show, I know that my hard work is starting to pay off."
From the weekly, beloved Jazz Nights, shows at Gallagher's or the Autumn Cafe, to the highly anticipated Oneonta Punk Fest, we here in Oneonta are spoiled with a vast and varied music scene. It seems almost any night of the week, students have the opportunity to see a live show somewhere in town , which is something that shouldn't be taken for granted. Though, Jazz Night might be the most inclusive live showcase, allowing an 18+ crowd.
For my friends and myself, Jazz Night has been a staple in our weekly schedules since sophomore year. There is no better way to pass humpday, so head down to the Black Oak this Wednesday and see what the downtown music scene and the SUNY Oneonta Jazz Octet have to offer, you won't be disappointed.