Adia Watts
Culture Editor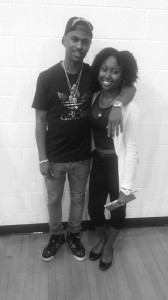 This past Saturday, the atmosphere on campus was electric. Over 2000 people came from far and wide to our school to witness Big Sean perform on stage at Dewar Arena in Alumni Field House. You could feel the anticipation as we waited in the longest line I've ever seen. The line extended through the parking lot and seemed as if it went on forever. We were finally granted access to the arena around 7 p.m. It was like the running of the bulls as the stampede of people made their way into the arena and towards the stage. I was lucky enough to get a spot in the very front where I would be able to see all the action.
The concert finally started around 7:30 and first up to perform were Oneonta's own Oneonta Hip-Hop Collective. The OHHC consists of Denis Muganza (Darkecy), Eric Cullen (Cully), Curtis Igunbor (Righteous), Charlie Balsam (Maslab), Jordan Mayers (Rascal #5), Matt Coonan (Matty Coonz) and Ian Cheyne (DJ Om-Sign). Additionally, most of their songs were produced by Brian Temme (Mr. Temmtation). Relatively new, the OHHC was started about eight months ago and already received the great honor of opening for Big Sean. It was a little hard to hear them because the mics were not loud enough and because of the screaming fans behind me, but from what I could see, they did a good job for their first time performing together at such a major event.
Next up was Aire Atlantica, a 21 year old DJ from New York. His set started around 8 p.m. and lasted for an hour. The whole time he played, the crowd was jumping to the beat of his EDM sound. Some people were feeling the music so much that they started crowd surfing. However, that didn't go over too well with event staff; some of the surfing bodies were picked out of the crowd and thrown out of the arena. Girls were being hoisted onto shoulders, guys were taking off their shirts and some fights ensued throughout the duration of the various performances. There must have been something in the air, besides the pungent smell of weed that went mysteriously unnoticed by the Oneonta police officers who were in attendance.
After the opening performances the mob had clearly grown increasingly impatient waiting for Big Sean to come on stage. So when the time finally came, the excitement was palpable. Big Sean bounded on stage to the cheers and screams of eager fans. Throughout his performance, he rapped a medley of songs ranging from his mixtapes to his widely known studio albums "Finally Famous" and "Hall of Fame." The showcase was extremely energetic; I didn't stop dancing and singing, and as far as I could see, no one else did either. At one point, Big Sean leaped from the stage to join the audience members in the front, which resulted in a frenzy. He walked around with the mic asking girls to sing along to the chorus of his single, "Ashley." The chosen ones were so starstruck and in awe that all they could muster was a fervent shriek into the microphone.
Following the closing of the show, I was ushered to an area where I awaited the emergence of Big Sean. As I was mentally preparing myself to meet such a big star, I was reminded multiple times by members of SA and Big Sean's management team that I was not to ask anything personal or relationship-related. Notebook in hand, I nervously went over my questions one more time and chewed some gum so I wouldn't offend him with my breath.
Finally, after watching him take pictures with SA, the tech crew, the opening acts and the EMS team, it was my turn to get a chance to talk to the man of the hour. To my dismay, Big Sean's bodyguard informed me that I would only have five minutes for the interview. I had almost 20 potential questions to ask him, and now I had to quickly narrow that down to about four or five.
Big Sean (who was actually not that big at all – only about 5'8'') greeted me with a warm smirk and an arm around my shoulder, which instantly eased my anxiety. He was just a regular guy and I couldn't help but notice how good he smelled. We said hello and he asked me how I was doing, then I pressed play on the voice recorder and the interview began:
Adia: In an interview in Toronto, you mentioned that if someone's never heard any of your music that the first song they should listen to is "Fire." Why did you say that?
Big Sean: I don't know. *laughs* It's a good song. It's like a straight rap song. Good lyrics. You know, it's not that traditional rap song. It's good, I like it. It has a positive vibe to it and that's about it. I love it.
A: So, how does it feel to be chosen for our concert? I should have asked that first.
BS: It feels great to be chosen. I appreciate it.
A: Have you ever been to this part of town before?
BS: No, I haven't. It's my first time, but the love is real here, you know. So I appreciate the hospitality, the good food, the pretty girls, all the dudes that came out showing love and not hating. I really appreciate that positive energy, man. You know, I live a long way from here so to be able to travel and perform and get people excited is the best thing ever.
A: Since you're at a college, and I read that you didn't actually go to college even though you had a full ride to Michigan State, do you think you would have been as successful as you are now had you gone to college?
BS: Uh, yes. Yes I would have been just as successful if I went to college. Probably more successful 'cause I would have learned. I wouldn't have to hire so many people that do jobs I don't know how to do. I would have got a degree in law, I could have been my own lawyer. If I would have got a degree in business management, I could be my own business manager. *laughs*
A: So do you have any advice for our college students who are aspiring music artists?
BS: My advice is to just be yourself. Don't be afraid, you know. You gotta have ultra-faith in yourself and you gotta just see it happen. And if you see it happen in your head that means there's a path to get there.
(At this point, I was told by his management team that I had one more question left. So I had to make it a good one.)
A: I really wanted to ask you about a current events question. Is that okay?
BS: Okay.
A: So you've been vocal about the job of the police in your hometown of Detroit. What do you think about the police in Missouri and how they're handling the situation in Ferguson?
BS: Hmm. That's a deep one. Man, I feel like policemen are supposed to have … they have more power and responsibility. With great power comes great responsibility. Some of the actions we've been seeing have been a little irresponsible. But you know, I haven't been in their heads. I don't know what they're thinking and what their mind is so I can't completely judge them, but on the outside looking in, sometimes it doesn't look too good, you know. It's like they need to reevaluate why they're cops and take their jobs a little more serious and not let any personal life issues affect their decisions. And I think they should take a step back and look at themselves, too and how they look to the outside. Maybe they don't know how they look, you know.
After that very brief interview, I asked Big Sean for a picture and his autograph, of course. He obliged, then gave me a big hug and thanked me for having him and I thanked him for coming. It was a great night.