Hannah Griesel, Staff Writer
Just a few short years ago Ariana Grande was best known as Cat Valentine on Nickelodeon's "Victorious." Yet, as she remained busy with her acting career, she also focused on her music. When Grande careened onto the music scene in 2013 with her debut, "Yours Truly," she was often parroted as a "Mini-Mariah [Carey]," due to both her vocal style and melodies comparable to 90s R&B.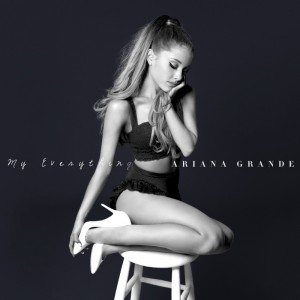 Glenn Gamboa of "Newsday" wrote that the familiar sound was a result of Grande not using her voice to its full capacity, but the new album "pushes Grande much harder in all sorts of directions to generally stronger results." Stephen Thomas Erlewine of "AllMusic" writes that Grande is "possessed with greater vocal chops than any of her peers – her effortless runs revealed the limitations of Katy Perry and Rihanna." Perhaps these comparisons are just.
In mid-August, Grande posted a screenshot online, showing her songs "Best Mistake" (featuring Big Sean), "Bang Bang" (featuring Jessie J and Nicki Minaj), "Break Free" (featuring Zedd) and "Problem (featuring Iggy Azalea) ranked in the lst, 3rd, 4th and 12th spots on the iTunes chart in the same week. This, if anything, is a reliable marker of Grande's remarkable talent.
Although she has had a modest following since her success with both Nickelodeon's "Victorious" and "Sam and Cat," recently, and largely due to this summer's success, she has so quickly become a household name. Three of these hits appear on "My Everything," with "Bang Bang" only available on the deluxe edition of the album.
"My Everything," released August 25, is packed with plenty of pop anthems, spunky enough to blast for a sing-along in the car. A standout is "Break Your Heart Right Back," a collaboration with Childish Gambino. The song is a sassy response to being hurt by someone romantically, with Grande singing over Diana Ross' legendary "I'm Coming Out" in the chorus. Rob Sheffield of "Rolling Stone Magazine" writes that Grande doesn't have much interest in playing the victim, describing this song as a "righteous manifesto for young women." Perhaps that is how any heartbreak-related song should be. The track recalls the powerful and soulful anthems of female R&B idols and girl-bands like Destiny's Child.
Other tracks such as "One Last Time" and "Why Try" seem to flow together as two parts of the same song, but standout individually nonetheless. Both showcase her voice, and deal with problems that occur in relationships.
The album also credits huge names. Writers include David Guetta, Ryan Tedder, Sean Combs and Harry Styles, while featured artists include Cashmere Cat, The Weekend and ASAP Ferg.
Overall, Grande's "My Everything" succeeds where she had not in the past. She has truly managed to avoid the sophomore album slump by coming into her own style and presenting music that is simply fun and relatable, enhanced by her distinctive vocals.