Hannah Griesel, Staff Writer
Iggy Azalea's story is one of determination. She was born Amethyst Amelia Kelly in Australia with a love for art that soon developed into a love for American hip-hop. She began rapping at age 14 and founded a band, but ended up leaving because the other members weren't as serious about their musical careers. Azalea soon dropped out of school and worked as a maid to save money. At 16, she told her family that she was heading to America for a vacation but eventually informed them that she wouldn't be moving back to Australia. To maintain her Visa, she would fly back to Australia every 90 days with her flight attendant step father and renew her forms. Currently, Azalea is in the United States on an O-Visa, a work Visa that is granted to those with extraordinary talents in a field.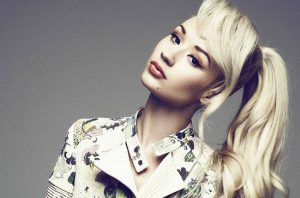 Upon moving to America, Azalea created a stage name by combining the name of her childhood dog with the name of the street that she grew up on. She moved from Miami to Atlanta to L.A. and was briefly managed by Interscope records. In 2011, she began gaining online popularity when she uploaded her first music video to YouTube and released her first mixtape, which yielded three music videos. After a work friendship began between Azalea and rapper T.I., she decided not to continue with Interscope and instead signed onto T.I.'s independent label, Grand Hustle Records. Azalea announced her album, The New Classic, back in December of 2011, claiming it would be released after she signed with a major label. In 2012, she released a six track EP, "Glory," which provided two singles.
The first single from The New Classic, titled "Work," premiered in early 2013 while Azalea was on tour with Rita Ora. Two months later, "Bounce," the album's second single, was released. "Change Your Life," featuring T.I., came in the summer of 2013, although she had left his label and signed with Mercury Records a few months earlier. The album was set to be released in the fall of 2013, but conflicts regarding her tour with Beyonce forced her to push back the release date until April 21, 2014.
The theme of Azalea's debut album is her journey to make it to where she is today. All of the tracks, with the exception of "Black Widow" with Rita Ora, are cocky anthems about rising up from nothing or about having and deserving the best in life. Azalea's intention was to tell fans her story with this album, but as Jon Caramanica of The New York Times says, Azalea "is an extremely hard worker, but so much so that what's loudest much of the time is the labor involved, not the art itself." She relies on this message too much on the album, telling listeners why they should respect her instead of showing them through well-crafted music.
Referring to herself as a "new classic" is a hard thing to live up to. In the reggae-infused "Lady Patra," she defines her idea of classic as Sinatra and Phantom of the Opera. She's making large claims about her talent and influence, and many reviewers don't believe that she deserves the hype.
Despite the album's issues, Azalea is still a growing artist who is continuing to gain mainstream appeal and fans, especially since the release of "Fancy," featuring Charli XCX. Hopefully there won't be another three-year wait to find out how she progresses in her next album.