Richie Feathers, Arts Editor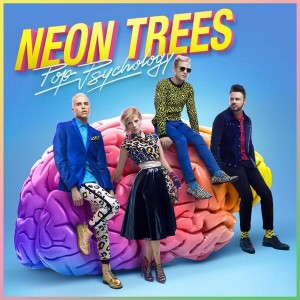 With song titles that include "Text Me In the Morning" and "I Love You (But I Hate Your Friends)," one might assume that Neon Trees' third album is set to soundtrack the next "High School Musical." It's true, some of the songs even sound fitting for such a mix–their songs have been covered on "Glee," after all. But look closer at tracks such as "Teenager In Love" and "Living In Another World" and a lyrical depth is revealed under the spotless production. It's not all kids' stuff.
Much of Pop Psychology deals with themes of teenage yearning and late night escapades, similar to past releases Habits (2010) and Picture Show (2012), which spawned the massive hits "Animal" and "Everybody Talks," respectively. However, as lead singer/keyboardist Tyler Glenn, a 30-year-old born-and-raised Mormon, has recently come out as gay, the songs take on a new and often personal perspective.
With Branden Campbell (bass, vocals), Elaine Bradley (drums, vocals) and Christopher Allen (guitar, vocals) rounding out the Utah-based quartet's lineup, Pop Psychology sees Neon Trees fully embrace the pop inclinations they've always had. Where "Love In the 21st Century" opens with handclaps and a stomping beat as Glenn sings of "broken heart technology" and "quick deletes," first single "Sleeping With a Friend" is a glistening slice of synth-pop. Although the latter is about Glenn being with a straight man, neither track harbors any exclusivity, an admirable skill for an album as personal as Pop Psychology can be.
In "Teenager In Love," Glenn recounts, "I would never choose to live that way/But I do…/He's a teenager in love/What a tragic attraction…/I'm a fool/With a curse and a crush." Album highlight "Living In Another World" is an especially effective moment as it finds Glenn in a more recent mindset, thinking back on the years he's spent hiding who he is. "I guess I've always been this way/It's been hard for me to say/Close my eyes, it'll go away…/So I found out how to trust myself/I found out I'm stronger than the pills."
Drenched in synth, "Unavoidable" is an 80s-style ballad with co-lead vocals from Bradley. While a less polished production could have made the duet resonate more, the track is a nice change of pace from the album's frenetic first half. Later, "Foolish Behavior" injects Pop Psychology with shimmering new wave electronics and a catchy vocal turn from Glenn.
Unfortunately, Pop Psychology won't appeal to all listeners–it might even disappoint some old fans–as its pop focus doesn't always offer much originality on the style. Yet, with Neon Trees' vibrancy and familiarity–and their skill around a memorable hook–the album has plenty to keep listeners coming back.
It's taken Glenn 30 years to come out, but he's excited to use the newfound freedom to establish himself as an influential figure in music. In a recent interview with Rolling Stone magazine, he says, "I've gotten tired of kind-of gay or straight people being pop culture's gay [spokespeople]–like Macklemore. It makes me wonder, 'Are we ready for an actual gay pop star?'"
They may not have as broad a reach as Macklemore, but Pop Psychology is certainly a good first step towards solidifying Neon Trees' place among the ranks of other successful pop groups. By introducing lyrical themes that dig deeper than the dance floor, they might even reach the top.
Key Tracks: "Sleeping With a Friend," "Living In Another World," "Foolish Behavior"
Grade: B