Campus News
Indiana Nash
Editor-in-Chief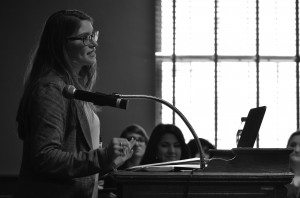 Saturday, April 12, 2014 was a very busy day around campus. There was the Accepted Students Day, the philosophy conference, Student Fashion Society modeling events and the first undergraduate history conference to be hosted at SUNY Oneonta. The history conference was held by the Phi Alpha Theta history honors society of the Upper New York region, and gathered students and professors from all across the country.
Throughout the day there were several panels of presentations given by over 30 students. Some of the presenters were from Oneonta, but many others were from schools such as Marist College, SUNY Plattsburgh, Hamilton College, New York University and SUNY Brockport. The topics ranged from all periods of time and cultures from "Nunca Olvide: Reframing the History of Cuban Exile Terrorism" to "Systematic Genocidal: The Use of Rape in the Genocide of Bosnia and Herzegovina." After each presentation, a professor gave the students feedback and brought up a few questions of their own. This gave the undergraduate presenters an opportunity to have a different perspective on their work.
In the middle of the day, one of SUNY Oneonta's History graduates gave the keynote address. Dr. Meagan Butler, who only just received her PhD, spoke about the transition from undergraduate to graduate school and how to hone in on exactly what each student is most interested in. Dr. Butler graduated from SUNY Oneonta in 2008 and went on to pursue her master's degree at the University of Glasgow. She recently defended her PhD in March and is now looking into other educational positions in the UK. During her speech Dr. Butler urged students to have a good relationship with professors and take as many classes as possible. She also claimed that even though her history classes were the ones which most intrigued her, it was the electives that she chose to take which helped her gain a better world view — "Taking electives really opened up my view and helped me to understand how my discipline fit into the world."
The history conference was an excellent opportunity for undergraduate students to present their work in a very professional way and receive immediate feedback from a host of history experts. For some students, this was the first time they had been able to present any sort of research. For others, like Jessica Bastone of SUNY Plattsburgh, it was merely a practice run or stepping stone. When asked if she was nervous about presenting, Bastone replied, "Not at all! This is the third time I've participated in something like this, and it's great to have this opportunity." The conference is a bit like a rehearsal for undergraduates to what being a graduate student will be like. History students especially are encouraged to continue on to receive their master's and later PhDs. Thus, having an event such as the history conference is an opportunity to delve deeper into the discipline and receive recognition for it.