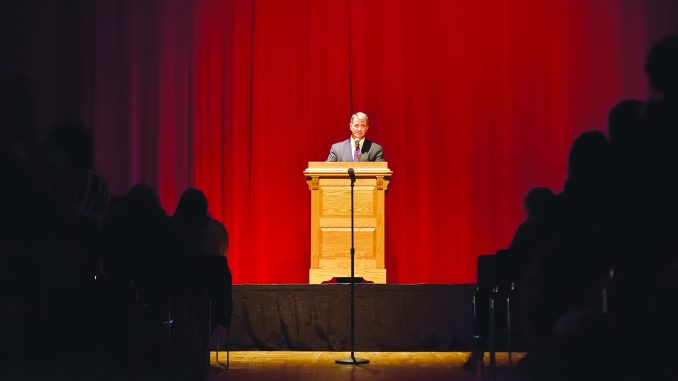 Monica Dore, Copy Editor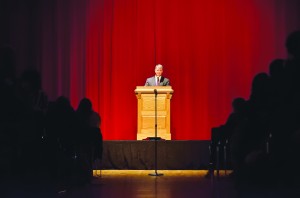 On Monday night, Jack Abramoff joined students in the Hunt Union Ballroom for a discussion on ethics and current issues in US politics, followed by a question and answer session with members of the audience. Abramoff is a self-proclaimed "recovering lobbyist" who has been out of the business for ten years. He was the top lobbyist for Preston Gates & Ellis and then for Greenberg Traurig until he was indicted in 2006 for fraud, conspiracy to bribe public officials and tax evasion. He pled guilty, avoiding a life sentence in a maximum security prison. Instead, he and other lobbyists found guilty of similar charges were forced to make restitution of the $25 million that was defrauded from clients. In addition to the compensation, he spent nearly four years in prison.
Abramoff started his political career as chairman of the College Republican Club during his undergraduate years at Brandeis University. After graduating, Abramoff was elected to chairman of the College Republican National Committee, where he was quoted in the group's 1983 report as saying "It is not our job to seek peaceful coexistence with the Left. Our job is to remove them from power permanently." After spending ten years in Hollywood writing and producing films, Abramoff was hired to work as a lobbyist for Preston Gates & Ellis.
In Monday night's lecture, Abramoff described how lobbyists "play the game" to persuade congressmen to align with the lobbying firm's clients. Golf trips to Scotland, expensive dinners and tickets to sporting events are tactics that Abramoff and other lobbyists used to sway the minds of Washington D.C.'s lawmakers. Although Abramoff claimed he didn't see his manipulative actions as wrong at the time, he said on Monday that he now knows "using resources and money to influence the decisions of public servants is bribery." Abramoff also told the audience during the Q&A session that lobbyists often personally write bills that they want passed in terms that are so technical that the average person could not possibly understand the provisions or even dispute the bill.
Much of the discussion was focused on Abramoff's regret for what he did while working as a lobbyist. More than once, Abramoff said that he was "ashamed," "shocked" and "embarrassed" of his past actions. He said that he didn't see himself as a victim of political assassination and admitted that he was the only one responsible for his failed career.
When asked by an audience member how anyone could know if his sentiments were genuine, Abramoff said that no one would ever know how he really feels but that his actions are enough to express his regret. "Look at what I'm doing now. I know the system, I went through it, and they cannot fool me. Someone with my knowledge is useful." He went on to say that although he "may have been unethical in his means to the end, he never lobbied for what he thought to be unethical," regardless of the money he was offered. Tobacco companies, for example, and powerful people from Saudi Arabia offered Abramoff millions, but he never went to bat for those clients.
But some question the legitimacy of his moral compass. Investigations led by the Senate Committee on Indian Affairs found that Abramoff repeatedly used words like "monkeys," "troglodites" and "morons" in emails referring to his Native American clients. The same Native American clients, that he and other lobbyists severely over billed for personal profit. International Freedom Foundation, a group that Abramoff founded in 1986, was also investigated. It is alleged that the IFF received funding from apartheid South Africa in exchange for the IFF's portrayal of Nelson Mandela and other members of the South African Congress as communist sympathizers and terrorists.
Abramoff ended the evening by encouraging the audience to take action against the things they don't like. His hopes, he said, were for citizens to use the information that he was giving them to change what is broken in our country. "I spent years doing bad things," said Abramoff, "and now I'll spending years trying to undo them."