Keanna McGarrell, Contributing Writer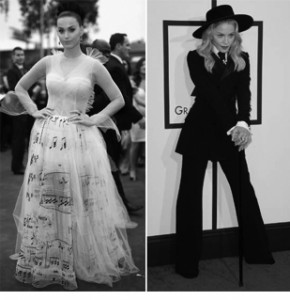 Sunday, January 26 marked the 56th annual Grammy Awards Show. Musical artists of all genres came out to present, perform and possibly win some awards too. However, the number one question asked by all media correspondents was, "Who are you wearing?"
Pop icon Madonna showed up with her son David as her date, both wearing matching outfits designed by Ralph Lauren. Madonna wore a black pantsuit with a hat, sparkly glove and a cane as a few of her accessories. While this Ralph Lauren look could have worked on the runway, it was quite tacky and comical on the red carpet—it was Willy Wonka-esque, just less colorful.
Katy Perry, well known for her vibrant looks on the red carpet, went soft and glamorous for this year's Grammys. Her fresh-off-the-runway Valentino dress was made of a sheer, white, chiffon material, with interesting musical notes as the print. Perry, who usually dons pink, blue and even green hair, went with a classic black up-do. Her overall classy look was definitely a show stopper that the singer pulled off quite well.
However, the most talked about fashion statement was worn by the five time Grammy winner of the night—Pharrell Williams. His overall look was casual, but still suited the man who never seems to age. Wearing a red leather jacket, a white t-shirt and a pair of jeans, Williams went simple for the night. Yet the focus seemed to be his hat. Instagram, Twitter and other social media outlets all had something to say about his brown hat, comparing it to everything from the Canadian Mountain Dudley Do-Right's hat to even the Arby's chain restaurant's hat. Arby's poked fun at Pharrell by tweeting, "Hey @Pharrell Can we have our hat back? #GRAMMYs," to which Pharrell jokingly replied, "Y'all tryna start a roast beef?" While his hat had many fueling with curiosity, it was fun, unique and a fashion statement. He wasn't trying too hard and there was no need to because he was the man of the hour.