Richie Feathers, Arts Editor
Sunday night saw the biggest names in music gather for its biggest night of the year: The 56th Annual Grammy Awards. While the night is technically for doling out golden gramophones, it's the displays of musical talent that always seem to get the most talk in the morning. Last weekend's live-broadcasted show was nothing short of exciting and at times, moving.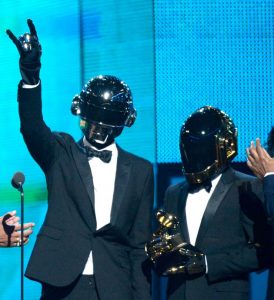 The big victors of the evening were Daft Punk, who beat out Taylor Swift, Macklemore & Ryan Lewis, Kendrick Lamar and Sara Bareilles to win Album of the Year for their critical and commercial smash, "Random Access Memories." Amounting to a total of five, the robot duo also took home awards for Best Dance/Electronica Album and Best Engineered Album (Non-Classical), as well as Record of the Year and Best Pop Duo/Group Performance for one of 2013's biggest hits, "Get Lucky."
Concluding a triumphant year, Macklemore & Ryan Lewis also won four Grammys. Unsurprisingly, they left the night as Best New Artist with Best Rap Song and Rap Performance awards for the infectious "Thrift Shop." But it was a surprise when they topped big contenders Drake, Jay-Z, Kendrick Lamar and Kanye West to win Best Rap Album for "The Heist." Macklemore has since tweeted a friendly apology to Lamar, saying, "You got robbed. I wanted you to win. You should have."
Also winning big, 17-year-old-newcomer Lorde's infamous "Royals" was awarded Song of the Year and Best Pop Solo Performance in a category that held Sara Bareilles' "Brave," Katy Perry's "Roar" and Justin Timberlake's "Mirrors." Other big winners included Vampire Weekend (Best Alternative Album for their superb "Modern Vampires of the City"), Alicia Keys (Best R&B Album for "Girl On Fire") and Kacey Musgraves, ending a break out year with well-deserved awards for both Best Country Song ("Merry Go Round") and Best Country Album ("Same Trailer Different Park").
Yet, as expected, the show's striking roster of performances overshadowed the presentations of these awards as Sunday night's festivities celebrated historic anniversaries, generation-spanning collaborations and even wedding ceremonies.
Beyonce (with husband Jay-Z in tow) opened the night with a steamy duet of "Drunk In Love," the latest single from her newsworthy self-titled, fifth solo album. (Expect Grammy attention to surround that next year.) After, Lorde captured the room with a minimal but effective performance of "Royals," Juicy J accompanied Katy Perry for a gothic take on her mediocre "Dark Horse" and Robin Thicke sang "Blurred Lines" with Chicago.
As the night progressed however, the majority of these performances proved to be mere warmups for what was yet to come. Taylor Swift impressed both her supporters and non-supporters with a simple, no-frills version of the excellent "All Too Well," one of the quieter moments from Grammy-nominated "Red." Also, P!nk's solo acrobatic display for the pop ballad "Try" recalled her unforgettable 2010 Grammy performance of "Glitter In the Air." Fun's Nate Ruess joined the singer on stage for the more straightforward, second half of her performance, a rendition of their popular duet "Just Give Me a Reason" which was nominated for Best Pop Duo/Group Performance.
But the energy soon hit the ceiling for the first major standout production of the night. Imagine Dragons and Kendrick Lamar teamed up for an astounding performance of hits "Radioactive" and "M.A.A.D. City." Lamar (five nominations) had sheer power as he commanded the room, while Imagine Dragons (winners of Best Rock Performance for "Radioactive") pummeled away on the numerous drums they had on stage. Kacey Musgraves followed with her genre-testing "Follow Your Arrow," the irresistible ode to kissing girls and smoking joints, and Metallica later stepped back on the Grammy's stage after 23 years with pianist Lang Lang for a blistering take on "One."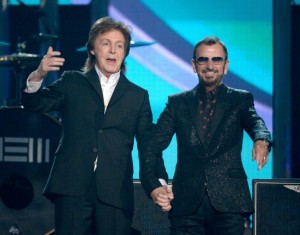 Another clear standout of the night was the wonderful performance of "Queenie Eye," Sir Paul McCartney's latest release, assisted by none-other than Ringo Starr, as a celebration of the 50th Anniversary of The Beatles' momentous performance on the Ed Sullivan Show in 1964. To see the two old band members and friends reunited on stage awoke the giddy music lover in those who realized just how important a moment it was for music.
"It's a long way to the finish when you've never been before," McCartney sang from behind his colorful piano as the camera managed to capture both ex-Beatles in a single shot. Taking it from a veteran, this piece of lyrical advice made for a makeshift theme of the night as many contemporary artists found themselves on stage with music legends and personal heroes. Blake Shelton joined Willie Nelson, Kris Kristofferson and Merle Haggard for a medley of country classics, while Daft Punk, Pharrell Williams and Nile Rodgers rocked the crowd with a little help from Stevie Wonder for a rousing "Get Lucky." Even Sara Bareilles was able to perform with Carole King for a pretty but brief matchup of the latter's "Beautiful" and the former's "Brave."
But the night's biggest spectacle came during a solid performance of Macklemore & Ryan Lewis' unforgettable, pro-gay anthem "Same Love." With help from the track's hook vocalist Mary Lambert and a cameo from Madonna, Queen Latifah presided over the marriages of thirty three couples, all standing in the aisles with hands intertwined and eyes on their significant other, providing an emotional testament to the power behind the song's words.
Lindsey Buckingham, Nine Inch Nails, Dave Grohl and Queens of the Stone Age later gathered to close out the show with an intense grand finale. Their performance of current hits "Copy of A" and "My God Is the Sun" was a worthy ending to the truly enjoyable 56th Annual Grammy Awards. For a ceremony that was meant to honor the highest musical achievers of 2013, Sunday proved to be a night for the masses. It was a night worth remembering.