Reilly Van Dyke, Copy Editor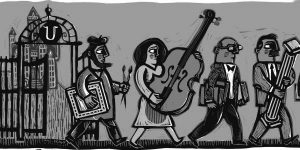 With the recession the United States has been facing over the past few years and the steady decline of the economy, colleges have become increasingly focused on offering students pre-professional programs and emphasizing degrees that will lead to careers. This has led our education system to become more focused on math and science programs, and as a result, the humanities are being pushed to the back burner.
According to The New York Times, Stanford University, an establishment known for its computer science program, has 45 percent of its undergraduate faculty teaching courses in the humanities, but only 15 percent of its students are majoring in subjects like English, history and philosophy. It's not surprising that computer science has become their most popular major, considering Stanford's access to the latest technology and their overall reputation.
However, with the effects of the recession coming into play, colleges are starting to put most of their efforts into job preparation. Richard Shaw, Stanford's Dean of admissions and financial aid says, "We have 11 humanities departments that are quite extraordinary, and we want to be able to provide for that faculty."
This issue is not only reaching the surface at Stanford, but at colleges and universities all over the country as well.
Insufficient funding can no longer be ignored, and the humanities programs are paying the price. Edinboro University of Pennsylvania announced back in September that they would be closing their German, philosophy and world languages and culture degree programs due to low enrollment rates among students.
At more prestigious educational institutions like Harvard University, the humanities are generally safe, but the situation is still shaky. According to a recent report, the number of students who major in the humanities has dropped 20 percent over the past decade at Harvard, which has lead the University to decide to revise their program to sustain student interest. Furthermore, both Stanford and Princeton University have now adopted high school programs for students who hold a strong interest in the humanities.
Andrew Delbanco, a professor at Columbia University said, "Both inside the humanities and outside, people feel that the intellectual firepower in the universities is in the sciences, that the important issues that people of all sorts care about, like inequality and climate change, are being addressed not in the English departments."
Faculty of the humanities departments feel as if their efforts are no longer being recognized or accounted for and students who choose to major in the humanities also aren't getting nearly as much recognition as those who choose science, technology, engineering and mathematics (STEM) programs.
According to The New York Times, Dan Edelstein, the Stanford professor who ran this summer's high school program, said that "while it is easy to spot the winners at science fairs and robotics competitions, students who excel in humanities get less acclaim and are harder to identify."
The reason behind all the emphasis on math and science? Well, for some students, it all comes down to whether or not they're going to be able to get a job once they graduate. And with almost a 10 percent unemployment rate in the United States, they have a valid point. Doctors, nurses, engineers and computer systems analysts are all career fields that are in high-demand right now, and all involve the study of math and science.
However, while these STEM programs are important, some may argue that the humanities are almost, if not just, as important. With the education system in the United States changing and the increase in technology, students are doing less reading and writing- important skills they'll need, no matter what field of work they choose to go into down the road.
With all this change occurring in institutions of higher education all around the country, it will definitely be interesting to see if the current trend keeps advancing or if the humanities programs will be able to come back to the forefront at some point in the future.