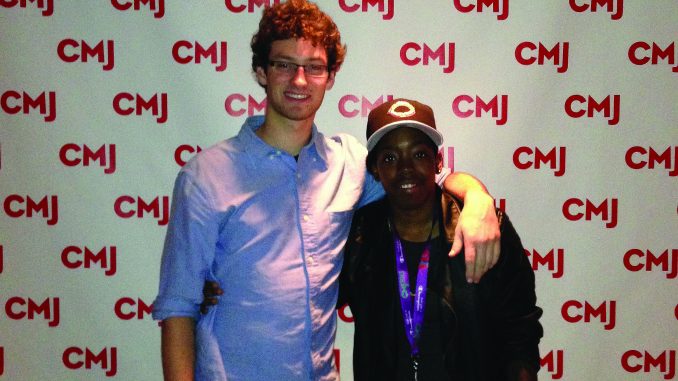 Alex Fredkin, Arts Editor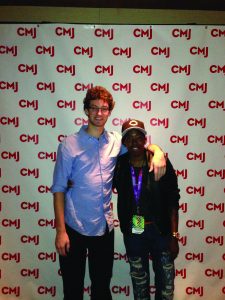 This year I was lucky enough to go to CMJ (originally College Media Journal) in NYC. From October 15 to the 19, all of Manhattan and parts of Brooklyn were flooded by bands, industry professionals and music diehards. There were multiple bands playing every night, as well as educational panels during the day.
The students at SUNY Oneonta's radio station, WONY, go every year and were gracious enough to let me go with them. In addition to putting on the annual CMJ Music Marathon, CMJ publishes a weekly magazine that contains lists of the top music at college radio stations, sort of a Billboard magazine for college radio.
What's great about CMJ is that it is not just a music festival. It caters more towards music professionals and industry hopefuls. While Coachella, Bonnaroo and Lollapalooza are great to see Tom Petty or the Red Hot Chili Peppers, you will find no such thing at CMJ. During the day, the top players in the industry give talks at predetermined panels, discussing topics ranging from how brands are using emerging music to the pros and cons of giving away music online. These panels went from 11:00 a.m. to about 5:00 p.m. every day. Afterward the panelists were more than happy to talk to attendees and share their wisdom.
Anyone with a CMJ badge gained access to the panels as well as any of the CMJ sponsored shows and showcases that week, of which there were hundreds in total. What's interesting about CMJ is that all of the bands are more or less undiscovered when they play. But the beauty of the event is that past names have gone on to be huge in their own right. Major acts such as Lady Gaga, Mumford and Sons, Arcade Fire, Avicii, Kendrick Lamar, Lamb of God and countless others can all list CMJ as a notch in their illustrious career. Will any of the bands from CMJ 2013 be able to join that list? Only time will tell.
On Tuesday I saw electro-pop act Joywave at the Knitting Factory. This group definitely has potential and is right up the alley of acts such as Grouplove and Phantogram. On Wednesday I saw Vic Mensa, a Chicago-native hip-hopper whose best friend from home is Chance the Rapper, the mixtape emcee who blew up this summer. On Thursday I attended a performance by a duo called Brick and Mortar at Webster Hall. With a drummer who triggered electronic samples and a groovy bassist who also sang, this band made excellent rhythmic rock music. The night didn't end there, as I went on to see hip-hop producer Just Blaze in Brooklyn.
Lastly, on Friday I saw the hip-hop clown Riff Raff at Irving Plaza. His set was pretty lackluster. His brand of calculated awful works on the recording, but live his shortcomings are glaring. I did luck out though, as I ended up meeting one of the supporting acts and its manager, called Weekend Money. These guys were great and really surprised me. I'd definitely suggest looking up their music.
The craziest part of the week came after the Riff Raff show when I stumbled into an amazing freestyle battle in Union Square. If that wasn't amazing enough, not 15 minutes into it P. Diddy walked right into the crowd. Not to freestyle (unfortunately) but to hang out with a friend and watch the performance. NYC is a crazy place.
CMJ was an amazing time. I made so many great connections, saw awesome bands, and most importantly, made new friends. I'm going to apply to be a volunteer for next year's CMJ and would recommend the marathon to anyone interested in working in the music industry.