Robert Allocca, Contributing Writer 
How can we free ourselves from all the turmoil, shallowness and anxiety of everyday life and live fully as humans? How can we realize our authentic selves while abolishing our bad habits and achieving enlightenment? Dr. John Koller, a PhD in Asian Philosophies, addressed these and other philosophical queries during his visit to SUNY Oneonta on Tuesday September 24th and Wednesday September 25th.
During his time here, Dr. Koller provided two public lectures on "How to Raise an Ox", hosted by the Philosophy Club. "Ox Herding" is a Daoist and Buddhist teaching using the ox as a metaphor for one's authentic self. During his lectures, Dr. Koller guided us through the necessary steps, originally taught by Laozi, to reach a deeper awareness of our true identities. As Dr. Koller explained, the quest for enlightenment is seemingly never ending. However, we can aid ourselves in this journey through great discipline, yoga, and mediation.
After giving a detailed explanation of these Zen practices, Dr. Koller told us that enlightenment is not the abandonment of ordinary life, but the greater enjoyment of it. This enjoyment is already present; we simply must clear anxiety and mental clutter from our minds and hearts and view life with a positive outlook.
Dr. John Koller is a professor emeritus of Asian and comparative philosophies at the Rensselaer Polytechnic Institute. He is the author of five books including "Asian Philosophies", "The Indian Way", and a sourcebook in Asian Philosophy. After his lectures, SUCO's own Philosophy Club discussed these topics further and on a more personal level. For more information and discussion on Asian and a broad range of other philosophies, all are welcome at Philosophy Club every Tuesday night at 8:30 in Hunt Union's Susquehanna Room.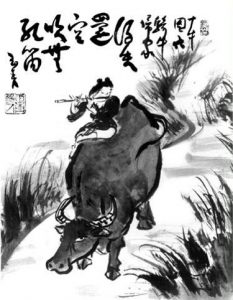 Painting by Master Gyokusei Jikihara