Richie Feathers, Staff Writer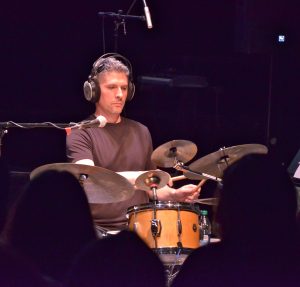 An electronic spectacle last Thursday night closed SUNY Oneonta's fourth annual New Music Focus Week on a very abstract note. Featuring the faculty trio Atom3 and the innovative composer-in-residence Cort Lippe, the show lasted only about an hour but was filled entirely by a combination of computerized sounds and filtered drum and guitar grooves. From the single, opening drum hit the audience was shown what can happen when four different people create what is going on in their head at the same time—an hour's worth of pure noise, for lack of a better word. Yet, it was still an interesting experience and one I'd never had before. Going into it I certainly didn't know what awaited me and so I can't say whether or not it lived up to expectations. What I can say, however, is that having an open mind was absolutely necessary. Without it I wouldn't have been able to enjoy the show for what it was.
Taking place in Fine Arts' Hamblin Theatre, the stage was set with a table in the middle of a drum set and a guitar. On it sat two computers and endless amounts of cables while the two instruments had their own form of a sound system. Behind the table were five large speakers and a screen for images that were projected during the show—and that was it. With so few materials the four-piece was able to create any sounds its members could think of on the spot. This was especially fun for the drums that were hooked up to a computer and the guitar which had its own cable that allowed it to sound distorted in many ways. Throughout the 60 minute set I noticed the drummer change the noises of each drum hit numerous times, as if partway through a jam he got bored and wanted to try something new. While the sounds didn't differ drastically, the changes were enough to notice.
The guitar sounds varied too, from distant distortion to atmospheric touches to multiple noises for each note. Although it wasn't as easy to hear up against the drums, the guitar grooves for each jam were always enjoyably new. And as with the title of entire week's event, the word "new" is certainly the best way to describe Thursday's show. Lippe sat at one of the computers on the table and worked mainly by mouse to create what was going on in his head, though I could've sworn I saw an electric whisk thrown in there too.
The experimental electronic showcase was certainly something to see in person in order to fully understand. Words can hardly compare to actually experiencing four different, unique minds coming together to create what some call music and others call nothing but noise. Personally, I just enjoyed the fact that for an hour there was no need to make any perfect sounds. As a whole, although it didn't necessarily sound very fun, the freedom that each musician felt while letting loose and experimenting with technology was very new indeed.