Justin Lovell, Sports Editor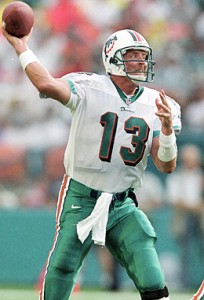 Dan Marino is considered one of the greatest quarterbacks ever and for good reason. Marino used to hold the record for most passing yards and touchdowns in a season, though both records have been broken in the past decade as the league moved more toward passing. The only real knock he has on his career is that he was never able to win the big game; he made the Super Bowl in his second season but could never get back there after. Regardless of that, Marino was dominating as a passer in an era in which the league was still ruled by running backs. The question though, is how he would have fared had he played in today's pass happy league, which is ruled by offense. In this week's "What If," we bring Marino to the 2000s and see how his career might have played out.
There is no question to me that Marino would have dominated the NFL today, much like he did back in the day. In 1984, he was able to pass for over 5,000 yards, and his record stood for 27 years before Drew Brees was finally able to break it. Brees is the only QB to ever break the 5,000 yard passing mark three times in his career and who I consider to be Marino reincarnated or the closest thing to him. As close as they are, I would give the edge to Marino had he been playing in the same time Brees had. I would even go out on a limb and say that Marino would have become the first 6,000 yard passer in NFL history.
Brees, unlike Marino, was able to capture a Super Bowl championship. Winning a title is hard enough, regardless of the era, but Marino had to deal with Joe Montana and the 49ers in the 80s, then Troy Aikman and the Dallas Cowboys in the 90s. Now I'm not saying the 2000s were less dominate, obviously Tom Brady would say otherwise, but they certainly have been dominated by a select few QB's and had Marino been one, he would have won a title.
In 1984, Marino was named the MVP of the NFL. This was the same season he passed for over 5,000 yards, and lead the Dolphins to the Super Bowl. If Marino had been playing in the 2000s, his MVP and offesnsive player of the year totals would have increased. Since 2001, a QB has won MVP nine out of the possible 12 times. It is true that QB's won back when Marino played, but not at the rate they win them currently. Had he played now, I think he could have won at least one more MVP, especially when he passed for 6,000 yards.
As great as Marino was though, to me he is forever remembered as the best to never win, but luckily with "What If," we are able give him his rightful and well-deserved ring. So here's to you, Dan, enjoy it.