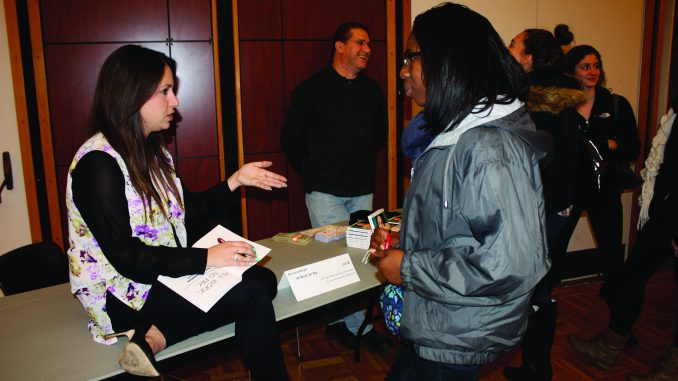 Lauren Berger, who has risen to prominence as "the Intern Queen," filled Hunt Union ballroom Wednesday, February 27, delivering career advice to students in an increasingly competitive job market. The "All Work, No Pay: Finding an Internship, Building Your Resume, Making Connections, and Gaining Job Experience" author drew nearly 400 students with her lecture, which was sponsored by the SUNY Oneonta Career Development Center, Hartwick's Career Services Center and more than 15 other campus organizations.
Berger has become an authority in the field of internships as a published author and founder of InternQueen.com, a destination for matching students with internships in a variety of fields.
"I knew that there was a gap in the marketplace in terms of internship information, there just wasn't enough for young people. I knew because I was looking for it and I couldn't find anything. So I decided I was going to not only create the destination where students could go to find internships and read advice and information about how to apply for them, but I was also going to be the person behind it," said Berger.
Berger, who has held 15 internships herself, stressed the importance of the unpaid positions, not only for their valuable learning potential, but their networking opportunities. Relishing the crowd in stories of rejection, perseverance, triumph and coffee brewing, she opened up dialogue on crafting work experience that's, in her opinion, as necessary as core class curriculum.
"She made me realize how important internships can be, and how they really can teach you so much," said Oneonta sophomore, Kimberly Chorba, a double major in communications and mass communications. "It's not just a great learning experience, but a great networking experience as well."
Coming in the heat of the summer internship application season, the Intern Queen lecture is the first of many new initiatives, workshops and networking opportunities put on by the Career Development center to promote internships among students.
"It's always nice to have a fresh face come in and talk about internships, especially someone that's had 15 internships during her college years. It hits home for students. I received 13 pages of fan mail, several comments which were from freshmen students," said Megan Ackley, SUNY Oneonta Career Development Center's Internship Coordinator. "I think there's a lot of value in honing in on the importance of internships at a young age."