Sara Buturla, Staff Writer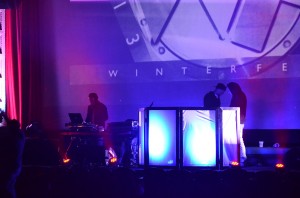 On Friday, March 1 "Winter Fest" hit the Oneonta Theatre. "Winter Fest" was an EDM dance party with various local DJs playing their own mixes. Running the event was Cole Partenza and sponsoring the event was Synergy New York and Branded Lights. 
Doors opened at 7:30 where attendees were welcomed by a giant projection screen displaying the words "Winter Fest," as well as strobe lights and lasers. Most guests followed the official "Winter Fest's Facebook" advice to make it an all white EDM party, but some chose to stand out in bright neon clothes as well. 
Although attendance for the event was low, everyone who did attend truly appreciated the music. The line up for the event began with Ecuad followed by DJ Duo, DJ dCaver, DJ Wes, Docta Philth and ending the show was DJ Tioka IV.  All DJs who played created set lists ranging from popular radio mixes to well-known EDM songs to their very own beats, all of which had the crowd dancing on the large dance floor. 
Overall, "Winter Fest" was a fun event if you were there with a few friends. According to SUNY Oneonta junior Keri Hofsiss, "'Winter Fest' was fun but not a lot of people knew about the event. That's the only thing I would have changed about it."