Kayla Whitaker, Contributing Writer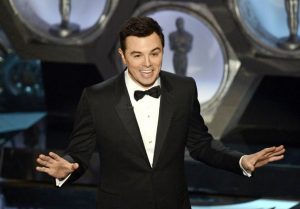 In light of the Internet's hopping with .gif and memes of Seth MacFarlane's rendition, "We saw your boobs," and Jennifer Lawrence's graceful recovery after tripping up the steps to receive her first ever Oscar, the Oscars this year was hotly debated.
Seth MacFarlane's hosting of the Oscars was true to his style and personality, with a combination of funny and risque routines. Activists are shouting for apologies, especially when they claim that MacFarlane's hosting was "sexist" and "rude." Although he has said he would never want to host the Oscars a second time, the ratings suggest that audience members would love to see his antics again. The Oscars enjoyed an 11 percent increase in ratings amongst viewers ages 18-49, according to the LA Times.
Jennifer Lawrence has gracefully stepped her way onto the scene since last year's box office hit, "The Hunger Games," however her portrayal of a recently unemployed widowed young woman has set her up for versatility in adult roles as well. "Silver Linings Playbook" has earned Lawrence her first ever Best Actress in a Leading Role Oscar. While she appears uncomfortable under the spotlight, she remains true to her personality, especially in her acceptance speech which was subtle and humbling. Her adaptability to various roles guarantees that she is not a light that will fade out soon, but burn bright for years to come.
"Argo" nabbing best motion picture, best adapted screenplay and achievement in film editing came as no shock to lovers of the thriller, who helped the film gain over $200 million in the box office. Ben Affleck's portrayal of a CIA exfiltration specialist brings an edge to a character that causes audiences to feel the pressure of the dangerous position these embassy staff are placed in. The constant threat and stress of the situation causes the audience to jump and stay on the edge of their seats all throughout the ups and downs of this dramatic film.
"Life of Pi" dominated the Oscars with four wins in categories such as achievement in directing, achievement in cinematography, achievement in visual effects and achievement for original score. This adaptation of Yann Martel's novel has touched the hearts of millions of audience members, several of which relate to the 16 year old, Pi. If the Oscar wins and nominations are any indication, this movie is a great joy to watch for audiences of all ages and is highly recommended for the child in all of us.
This year's Oscars has created such buzz worthy news as to send many journalists hoping to get the first scoop. The debacle over MacFarlane's expected antics and Jennifer Lawrence's fumble made the Oscars more talked about than previous years. "Argo" nabbing best motion picture and "Life of Pi" claiming several creative categories is just an indication of how 2012 was one of the better years for the film industry. This time next year hopefully there will be more antics, movies and scandals that will quench our desire for media buzz.