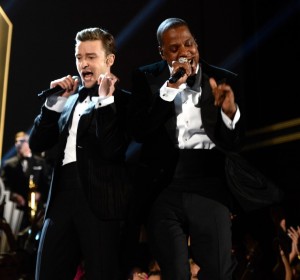 Samantha Wieder, Contributing Writer
Sunday February 10, 2013 marked the night of the 55th annual Grammy Awards. Red carpet coverage of the awards began at 6 pm on E! News with Ryan Seacrest and Giuliana Rancic interviewing the night's biggest stars on their highly-anticipated performances, and of course, their outfit choices.
The previous, a memo was sent out to the stars to keep their outfits appropriate and to keep certain body parts hidden. After CBS failed to censor Joe Flacco's f-bomb during the Superbowl last week, they had to be sure to cover themselves and keep the Grammys family-friendly. Most of the celebrities followed the dress code, however, Jennifer Lopez couldn't resist showing off her entire leg.
At 8 p.m. viewers switched from E! News to CBS to see Taylor Swift open the show with her famous "We Are Never Ever Getting Back Together." Taylor took a stab at her most recent ex-boyfriend Harry Styles. In the song she has a monologue in which she says, "So he calls me up and he's like," which was followed with her stating in a British accent (like Harry's) "I still love you" in which she replied "And I'm like I'm opening up at the Grammys" to prove she's better off without him. Swift, who was nominated for two awards, won one for her song "Safe and Sound."
Following Swift's performance, her upcoming tour mate and friend Ed Sheeran performed a duet with Sir Elton John to his song, "The A Team." Sheeran played guitar while John was on piano and overall the performance showed off really strong vocals on both ends. Other memorable performances throughout the night included Frank Ocean with his song, "Forest Gump." I couldn't even pay attention to his vocals because the "running effect" on the screen was so distracting, but it was still pretty entertaining.
Carrie Underwood put on a similarly distracting performance with her light up dress. I was so focused on the appearing and disappearing roses and butterflies on her gown that I couldn't pay attention to her voice.
There were two standout performances at the show. The first being the Bob Marley tribute which featured Bruno Mars, Rihanna, Sting, and Marley's sons, Ziggy and Damian Marley, that ended with Marley's song, "Could You Be Loved." Camera shots to the audience proved that the whole crowd was singing along and honoring the late reggae singer.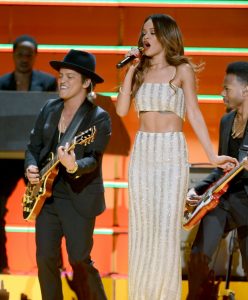 Second was Justin Timberlake's long awaited comeback performance that included two new songs, "Pusher Love Girl" and "Suit & Tie" featuring Jay-Z. Maybe I'm biased, but as a long-time J.T. fan, his performance at the Grammys was great and definitely promised that his upcoming album will not disappoint.
With all of the fashion and one of a kind performances, at the end of the day the Grammys is an award show in which the Academy decides the winners. Some of last night's winners included Carrie Underwood's "Blown Away" for best country solo performance, Adele's "Set Fire To The Rain (live)" for best pop solo performance and The Black Keys' "Lonely Boy" for best rock performance. Kelly Clarkson's "Stronger" won for best pop vocal album, Gotye's "Somebody That I Used to Know ft. Kimbra" for best record of the year and Frank Ocean's "Channel Orange" in a new category, best urban contemporary album. However, this year's big time winners were Fun. who won best song of the year for "We Are Young ft. Janelle Monae" and also best new artist.
Overall, the night included some amazing performances, well-deserved wins and others that weren't so great. As someone who watches the show every year, there were times when the show often felt like it was dragging on a little too long, and by 10:30 p.m. I was wondering why they couldn't cut the show to 11 p.m. because it became boring. The show ended with host LL Cool J rapping and honestly, I had to mute the TV about halfway during his performance because it became almost unbearable to watch. The Academy should pick out a better host next year and a better way to leave viewers when they turn off the television at 11:30. Nonetheless, I anxiously await next year's Grammys.