Bobby Lemaire, Staff Writer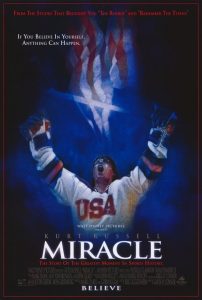 "11 seconds, you've got 10 seconds, the countdown going on right now! Morrow, up to Silk. Five seconds left in the game. Do you believe in miracles? Yes!" This was the famous call of Al Michaels, who announced the semifinal match of the 1980 Winter Olympics hockey tournament in Lake Placid, New York, between the United States and the Soviet Union. The United States, led by coach Herb Brooks, and comprised of only college kids beat the mighty Soviets, who were professionals, and won the three previous gold medals in a game that was close until the final horn. When the third period ended, the scoreboard showed that Jim Craig, Mike Eruzione and the rest of the team pulled off the impossible. The United States went on to win the gold medal and increased the popularity of the game.
But, what if the United States never upset the Soviets? What if the game was played out like it was on paper, where the Soviets were supposed to dominate in every facet of the game? What if Jim Craig didn't stand on his head and a couple of his spectacular saves were goals? If the miracle didn't happen, the game of hockey in America would look completely different than it does today. The 1980 Olympics inspired an entire generation of people to fall in love with the game.
If you look at the NHL today, there are 30 teams in the league and a majority of the teams play their home games in the United States. There are two teams playing in Florida (the Panthers and the Lightning), the Stars are playing in Dallas and the Sharks, Kings and Ducks all play in California. None of these cities are known for hockey. If it wasn't for Brooks leading team USA over the Russians, the NHL would be even more of a joke than it is today. It can even be argued that the NHL wouldn't be the biggest hockey league that there is. It is not out of the realm of possibility that Russia's Kontinental Hockey League would be the premier league that all of the superstars around the world would flock to.
In addition to the success the NHL has achieved, the United States also continued to thrive in international tournaments. The United States won silver medals in both the 2002 and 2010 Olympic Games. For the 1988 games, team USA started using professional athletes. But, the success of the United States had a lot to do with the increased popularity of the sport. After the miracle, more children started playing hockey, which led to more talent for the USA to choose from. If it weren't for 1980, it is possible that neither the 2002 or 2010 teams would have obtained a silver medal.