Sarah Vitro, Contributing Writer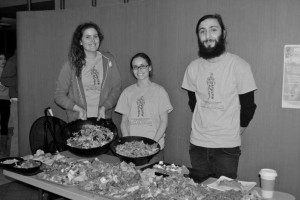 When people hear the word waste, they immediately think to themselves, 'Gross!' But what people should be thinking about is their impact on the environment. Landfills continue to be utilized to store waste, and contribute to increase levels of methane, polluted groundwater and runoff. The dilemma we face now is "what will we do with the waste once all landfills are maxed out?" Well, one way to decrease your waste at SUNY Oneonta is to not take more food than you can eat!
According to Chef Lynn, Executive Chef at Wilsbach dining hall, the majority of waste generated is from what students throw out. To demonstrate just how much we waste, Sarah Vitro, Greg Talamini and Emily Davidson, your student sustainability coordinators, hosted a waste demonstration in Wilsbach dining hall on November 19, 2012. As students reached the top of the stairs, they were greeted with piles of food waste courtesy of the dish room. The table included a section with whole food scraps such as salads, dessert, fruits and full plates of food thrown away. The other remaining food was put into the middle section of the table. Liquids were also saved and placed in two gallon containers. In just two hours, 160 lbs of food was collected in Wilsbach dining hall. Some students stated that this demonstration really opened their eyes to how much food we waste as a student body.
The second waste demonstration took place at Mills dining hall on Thursday, January 31. Once again students were taken aback by the waste display. Workers at Mills dining hall stated their disappointment in the amount of waste present because they are the ones that work hard to provide students with food. In three hours about 75 lbs of food waste was collected. The mission of the sustainability coordinators is to get students to take only what they will eat. Also, be mindful that one can ask for smaller portions if they feel they will not eat all of their food. In the next couple of weeks the sustainability coordinators will be developing advertising that will encourage students to ask if they would like to try food options, have their food prepared a certain way, or to have smaller portions.