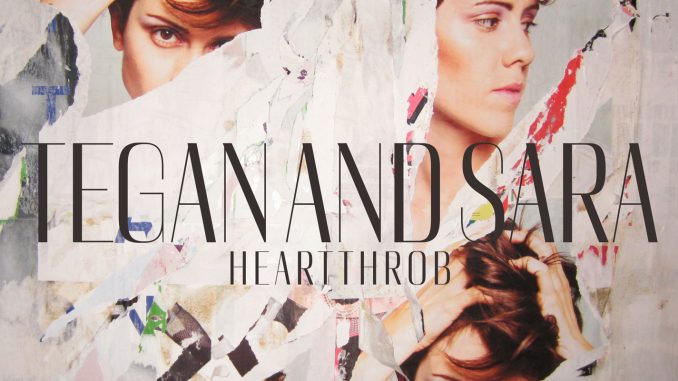 For both the fans who love to say, "I knew them when…," and the listeners who vaguely remember 2004's moderate hit "Walking With a Ghost," it may be hard to believe that Tegan and Sara Quin have had a career that spans about 14 years. While they're a relatively big name among indie rock followers, these Canadian twins have never fully tasted the mainstream success they deserve. But their seventh album "Heartthrob" is likely to change that. Working with high end producers such as Greg Kurstin (P!nk, Ke$ha) and Justin Meldal-Johnsen (Black Eyed Peas, Sara Bareilles), Tegan and Sara have created their most accessible album yet. At the core this tight set of ten songs is a deeply personal yet often universal experience. But on the surface, as the resumes of the hired help suggest, it's an electro-pop beauty full of catchy choruses, memorable lyrics and the twins' unwavering sincerity. "Heartthrob" is also Tegan and Sara's best album.
Although some old fans may turn away from the new direction, it's hard to say that this experiment in pop is terribly surprising as the two have always been strong at writing hook-filled songs. And since the release of 2009's "Sainthood," Tegan and Sara have even collaborated with big name DJs like Tiësto and Morgan Page, showcasing their wide range of talents. And this influence certainly shines through on "Heartthrob." First single and leadoff track "Closer" starts the album on a high note as arguably one of the best songs they've ever written. Chronicling the exciting and playful thoughts and emotions that go along with having a new crush, the song's sing-along chorus is simply unforgettable as Tegan assures, "I won't treat you like you're oh so typical."
As a whole, "Heartthrob" is about building someone up to be bigger and better for you than they actually turn out to be and each of the ten tracks offer careful observations on this type of experience. Said to have also been influenced by Cyndi Lauper's eccentric reign in the 80s, there's evidence of this throughout, especially on the highlight "How Come You Don't Want Me" where Sara reaches similar emotional heights as the classic "Time After Time." In fact, aside from the gorgeous, bittersweet love song "Drove Me Wild," most of the tracks are actually achingly sad.
Still, "Heartthrob" is by no means a discouraging listen, often disguising heartbreak with hooks; "Goodbye, Goodbye" is guiltless Top 40 fare with a chorus of "You never really knew me / Never ever saw me." Yet, the twins aren't afraid to delve into these deeper emotions; "I'm Not Your Hero" tells of the hardships they've faced as being lesbians and "Now I'm All Messed Up" is vulnerable and tragic. However, as a listener you can tell they've learned and grown from these admissions. Even through the tough themes there's an air of reassurance to "Heartthrob," and that makes it feel all the more human and something very special.
Key Tracks: "I'm Not Your Hero," "Closer," "Drove Me Wild"
Grade: A-