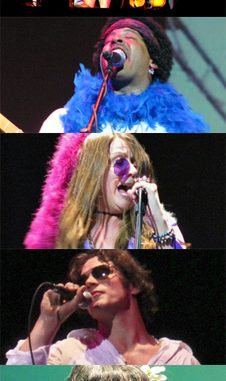 Alex Fredkin, Arts Editor

Ever wish you grew up in the 1960s? It was a time ripe with change and progress in our country politically, socially and of course, musically. Some of the best rock and roll bands ever came to fruition in the 60s: The Doors, Jimi Hendrix, the Grateful Dead and the Rolling Stones, to name a few.
On Friday, November 16, you can hear the music of all of these greats in the same show! The Oneonta Theatre is going to be hosting the "Woodstock Era Experience" on its main stage starting at 8:00 p.m.
This group is renowned in the area; they recently sold out their November 3 show at The Egg Performing Arts Center in Albany, NY.
They feature tribute artists of any name you could ask for from the Woodstock generation and are sure to produce nostalgia for some and a refreshing throwback for everyone. Get a taste of vintage rock at the Theatre to change up your Friday night with classic songs from these historic bands.
Tickets are only 15 dollars for students and 20 dollars for general admission. Tickets can be purchased in town or online at www.oneontatheatre.com.