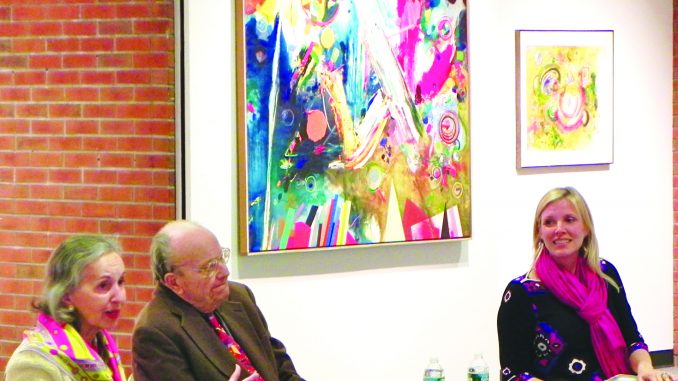 Kaylyn Boccia, Staff Writer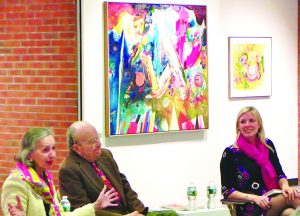 The abstract mind of Robert S. Neuman was brought to life by the vivid colors, geometric shapes and layers of paint displayed around the Martin-Mullen Art Gallery on November 8. In his career, Neuman has received both a Guggenheim Fellowship to Barcelona, Spain and a Fulbright grant to Stuttgart, Germany. Over the course of his 60-year career, he developed 16 series of works. Neuman has found inspiration throughout his life, from places he's traveled, things he has seen and experiences he has been through. Neuman presented his Space Signs collection at the Martin-Mullen Gallery, which is just one period of his work and extends from 1968-2009.
Neuman, his wife and daughter held a gallery talk before the public reception. After the audience was given some time to gaze around at Neuman's excellent abstractions, the talk began. They started with a timeline of Neuman's life and his experiences up until he became an artist, and thereafter. His daughter started by introducing her father's life and his accomplishments. Nueman was born in 1926 and grew up in Kellogg, Idaho, where he began experimenting with his passion for art. He first started by listening to the radio and trying to imagine what they were doing and drawing that vision. Neuman mentioned that since there was no TV during this time, he found something else to entertain himself with, which was drawing. He mentioned that his experiences in museums and the influence of his teachers pushed him to think on an abstract level. Neuman said that back then there was so much that he did not know, and this still remains true today.
"When you are an artist you have to be pretty stubborn to keep going, because sometimes the road is not so clear," said Neuman in one of his many moments where his true passion for the world of art came out in his words. He mentioned how long the process of making art takes, specifically for him, because he usually works on six or seven paintings at once. This gives them a chance to fully dry, as to not ruin them, and to complete them exactly how he wants. Neuman uses many shapes and layers of paint in his works of art, which is the reason why they need time to dry between stages of the process.
Neuman and his family also talked about what some of his paintings meant, as well as some of his techniques. One of his paintings uses a lot of bright/light colors as well as black, and uses numerous circles. He said they were meant to symbolize a time in Germany when the war had ended. The black and the circles symbolize the holes created by bombs, but the light colors like yellow symbolize the sun coming out due to the ending of the war, which seemed to be what everyone was waiting for. Neuman's passion and emotions for his painting were evident throughout this talk.
Some techniques Neuman uses are stamping, printing and free hand. Since there are a lot of circles in his Space Signs collection, he used tin cans, beer cans and other round objects as stamps. He placed them in paint and stamped them on the canvas to produce perfect circles. In addition to the cans, Nueman also uses a lot of masking tape in his projects. He places the tape on the canvas to get straight lines and dynamic layers of paint and color. He also prints, using objects or painting on masking tape and transferring the paint to the canvas by sticking it on and pulling it off. These processes can sometimes take months, but in Neuman's words, "What's a couple of months if you're going to make a masterpiece?"
Neuman's daughter pointed out that many of his paintings in this collection are full of so many colors and layers that they become more dynamic. The layers seem to change color with certain light or certain moods. During the talk, two books were also passed around to demonstrate a few more of his works and a picture of him at work, showing just how many paintings he does at once. The presentation was concluded by giving the audience a chance to ask him any questions they had. Neuman made it very clear that although people may not understand abstract art or believe it is real art, it is real to him, and he is passionate about reflecting and expressing his experiences through abstractions.