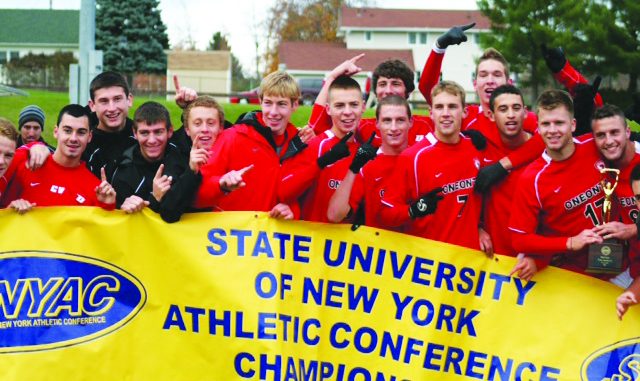 Justin Lovell, Sports Editor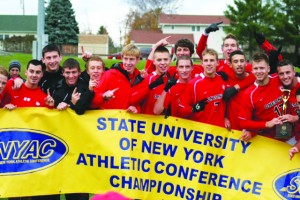 The men's soccer team was able to pull off their second straight SUNYAC championship win this past weekend in Plattsburgh. The Red Dragons (13-5-1) started off the weekend with a 2-1 victory over New Paltz (11-8-1) Friday and then took the championship home Saturday after beating number one ranked Plattsburgh State (17-3-1), 2-1.
SUCO fell behind against New Paltz in the 15th minute but was able to respond in the 30th minute behind a Luke Halberg goal, his seventh of the year. The game was level at the half and continued that way into the second period until Jake Suntherland scored on a header in the 55th minute to give Oneonta the 2-1 lead. The Red Dragons held off New Paltz the rest of the game and advanced to the SUNYAC finals against top ranked Plattsburgh. Earlier in the season, Oneonta lost to Plattsburgh 3-2 in double overtime but in the rematch were able to get revenge.
SUCO and Plattsburgh played a tough match all game and it looked as if the game was destined for overtime again, until Luke Halberg was able to break the scoring drought in the 79th minute to give SUCO the lead. As the game neared its conclusion, Jake Suntherland scored a second goal in as many days to give SUCO a 2-0 lead in the 88th minute. It looked as if Oneonta was going to walk away with an easy win but less than 30 seconds after SUCO went up 2-0, Plattsburgh came back and scored behind a Steve Zacharczyk goal, to cut the lead to 2-1. Fortunately for the Red Dragons, Plattsburgh's comeback was just too little too late as the horn sound giving SUCO its second straight SUNYAC championship and a return trip to the NCAA championship.
Last season, Oneonta advanced all the way to the Final Four in San Antonio, before their magical run was ended by tournament runner ups Calvin, 4-2. Much like last year, the Red Dragons hope to replicate their amazing run again and advance to the Final Four once more and this year, hopefully win it all. They start the tournament this Saturday at home against MIT (13-4-2) and if they win and advance to the second round will play either Montclair St. (17-2) or Salve Regina (16-5-1) Sunday.