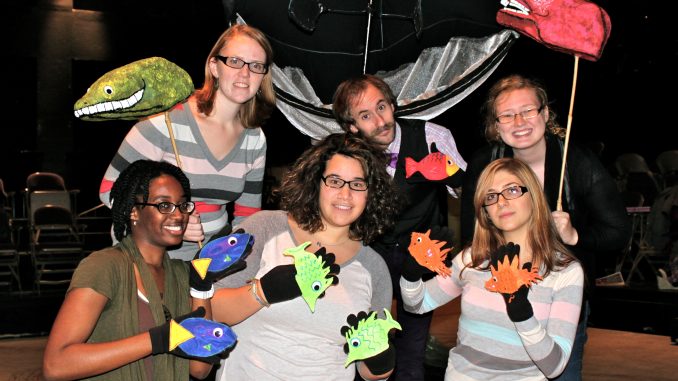 Kate Koenig, Editor-in-Chief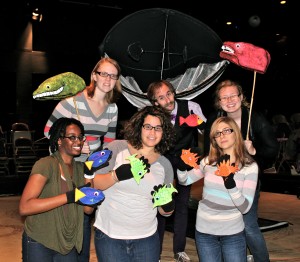 This weekend, the Mask and Hammer Theatre Club and SUNY Oneonta Department of Theatre will be producing two plays in one: "The Cuban Swimmer" and "Dog Lady" by Milcha Sanchez-Scott. The play will run from Thursday, October 25 to Sunday, October 28. The Thursday, Friday and Saturday productions will be at 8 p.m., and the Sunday performance will be a matinee, at 2 p.m.
The plays are being presented as a double feature; each consists of only one act, so audiences will see two entirely different plays in the duration of a play in two acts.
"The Cuban Swimmer" is described as a family drama with spiritual and surrealistic overtones. Its protagonist is a 19-year-old girl in the midst of a swimming race, with her family following close behind in a boat. The main character, Margarita, is forced to battle not only the water current and the physical difficulty of the competition, but her family's imposing presence as well.
"Dog Lady" is similarly surreal, or at least fantastical. It also has a young woman athlete as its protagonist, who in this play, is training to run in a marathon but is fearful of the competition. This quickly turns around when she's endowed with magical powers that allow her to run on all fours, enabling her to easily outrun her competitors.
You can catch the opening night of this double feature tomorrow night at 8 p.m. in the Hamblin Theater!
Correction!
Last week's theater production dates were printed incorrectly. The following dates and show titles have the correct information:
The Cuban Swimmer/Dog Lady by Milcha Sanchez-Scott – Oct. 25-28, Hamblin Theater
The Matchmaker by Thornton Wilder – Nov. 7-10, Goodrich Theater
As You Like It by William Shakespeare – Mar. 5-10, Hamblin Theater
After Ashley by Gina Gianfriddo – Apr. 11-14, Hamblin Theater
Of Thee I Sing by George and Ira Gershwin – Apr. 24-27, Goodrich Theater