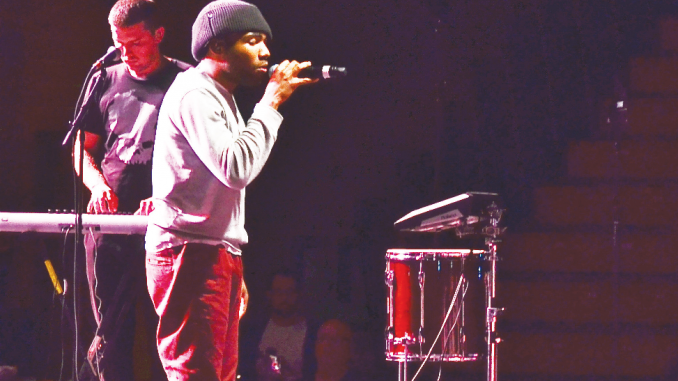 Alex Fredkin, Arts Editor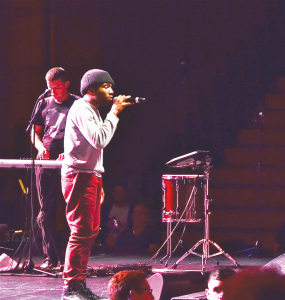 Writer, comedian, actor or rapper? Donald Glover or Childish Gambino? The Renaissance man put on his musical hat this Saturday at the Dewar Area and produced an entertaining show. He was preceded by rapper Josh Baze, who effectively warmed up the crowd despite being forced to battle a faulty PA system. Ironically, the system was shutting off because their bass was so loud it was tripping off the circuit breakers.
For those that do not know, Childish Gambino is the rapping alter ego of Donald Glover, who started off as a writer for the comedy "30 Rock." He also had an hour-long special "Weirdo" featured on Comedy Central. Additionally, Glover is an actor, portraying Troy Barnes on the NBC show "Community." He clearly isn't your average over-achiever, and also raps under the name Childish Gambino, which he ironically came up with by typing his name into a "Wu-Tang Clan" name generator.
He showcased his penchant for the extraordinary once again during the show, featuring an impressive and eclectic live band, a very rare ensemble for any rap act. It included the expected guitar, keyboard, bass and drums, but these players had plenty of tricks up their sleeves. The guitarist and keyboardist both played violin on several songs, including Gambino's hit "Freaks and Geeks." The bassist had his own crash cymbal and electronic drum pads, which he somehow managed to play while still having his instrument strapped to his body. The guitarist/violinist had a floor tom by his side as well which he used to add some extra percussion. The instrumentation was very interesting during this performance, and allowed the band to fully express the songs as opposed to being limited by only Glover and a DJ onstage. The bandmates were a great extension of Glover; as a multi-talented person, it is clear that he carefully chose members who are versatile musicians as well and can provide a varied show every night.
Childish Gambino started off strong with some upbeat tracks, amping up the crowd early with their highest viewed video "Freaks and Geeks." Glover is a consummate performer, and got the audience into the songs as much as he could, but the song choices at times were suspect. There was a long period during the middle of the show where he strung together several slow and mellow songs together in a row. He thankfully ended his extra long slow session with the other song everyone wanted to hear, "Heartbeat." This woke the crowd up by bringing another piece everyone could sing along to. The third song everyone was waiting for, "Bonfire," came shortly afterwards. In my opinion it was the best track and performance of the night; everyone jumped up and down for this song and really got into it.
Glover once again made a strange decision as he went into his encore after already playing all of his best material. He came back from the encore with a freestyle instead of a big single. In addition, some no-name rapper friend of his came onstage to be featured on a few songs off of his new mixtape "Royalty." If he surprised the audience with a huge name for his encore that would have been awesome; the encore is the time to bring the concert home, not introduce someone brand new to the crowd.
Regardless, the show was great and for better or worse, was definitely not your run-of-the-mill rap show. Glover is a skilled performer and portrayed his unique stage presence in full effect Saturday night. The Oneonta crowd clearly enjoyed the event, and will undoubtedly be blasting Childish Gambino tunes all week.