Alex Fredkin, Arts Editor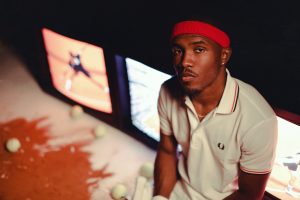 Frank Ocean has delivered a spectacular album that effortlessly combines many different genres of music. His style is unique and quite odd at times. Part of what makes "Channel Orange" so great is the fact that it is well thought out in its entirety. Similar themes run throughout, and the mood of the record ebbs and flows as Ocean's namesake suggests. It starts off with a peaceful, yet melancholy single called "Thinking Bout' You." Haunting strings lead way to Ocean's idiosyncratic vocals. His over-the-bar line phrasing is refreshing and executed perfectly amidst mysterious synth cycles. He showcases his range further with a heart-wrenching falsetto, singing "Or do you not think so far ahead? Cause I've been thinking 'bout forever." This song captures the romantic uncertainty of meeting someone new, and not knowing if they like you as much as you like them.
One week before the release of "Channel Orange," Ocean posted an open letter on his Tumblr stating that his first love was with a man that he met the summer he was nineteen years old. The relationship did not last as the man could not admit his love and returned to his girlfriend. Many songs on the album speak to lost love and lust. There is a strong possibility that the opening track references Ocean's experience during that summer. But what is beautiful about the song and the album as a whole is that he is able to let the listener inside his head to share his thoughts, but simultaneously allow the lyrics to be worded in a way as to also give them multiple interpretations.
"Channel Orange" is anything but a formulaic album. Ocean uses a myriad of different techniques to add creativity to the record. Many songs are connected by interludes like the changing of a radio dial. Some songs are only one minute long, while the masterpiece "Pyramids" is ten minutes long. The all-star guest list includes John Mayer, who is featured on a bluesy instrumental guitar track called "White." Andre 3000 lends his expertise with a memorable extended verse on the slow ballad "Pink Matter." Renowned producer Pharrell also lent his skills on the track "Sweet Life." The album features almost no samples, which gives the record a natural and organic feel. A funky slap bass line can be heard on the upbeat jam "Monks." "Crack Rock" incorporates a sweet jazzy hip hop drum beat, and one of the best songs on the album "Super Rich Kids," features a one organ chord melody that is genius in its simplicity.
Frank Ocean is a masterful artist and all of his instrumental tracks are imaginative. His songwriting is even better. He touches on many issues in life with a worldly and educated view. In "Super Rich Kids," the characters are spoiled kids living in mansions with all the money they could ever want. But these children are to be pitied, as all they want is real love. They have fake friends and absent parents, as Earl Sweatshirt raps "The maids come around too much. Parents ain't around enough." The song ends with one kid jumping off of the roof and committing suicide. Other songs touch on dark themes such as drug abuse and unrequited love. "Pyramids" starts off telling a tale about Cleopatra ruling ancient Egypt. The second half totally changes up the song with an electronica-inspired breakdown introducing a different Cleopatra; she now works at The Pyramid as a stripper.
This album is indefinable. It is part hip hop, part R&B. Some of the lyrics are very dark and insightful, while others are witty and tongue-in-cheek. Elements of funk and jazz are present as well, giving it a throwback vibe. There is no single genre that can describe his style. Frank Ocean may have been inspired by past greats, but he has created an original work that is far ahead of the curve. Fans of any type of music should give the album a listen, because it truly is a one of a kind piece of art.