Kate Koenig, Editor-in-Chief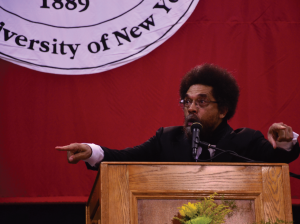 This fall, for the Black List's commemoration, Dr. Cornel West gave the keynote address in Alumni Field House on SUNY Oneonta's campus last night, Tuesday, September 4, 2012. His address followed a day of "Beyond the List" events that featured lectures across campus.
West, a graduate of Harvard University, currently is represented by a tremendous body of work, having written 20 books and edited 13; he appears frequently on CNN, C-SPAN, the Bill Maher Show, the Colbert Report and Tavis Smiley's PBS show. He did his graduate studies at Princeton, where he received his doctorate and now teaches. He has appeared in countless films and documentaries, including the "Matrix" trilogy, and has produced spoken-word recordings and collaborations with Prince, Jill Scott, Andre 3000 and Talib Kweli, among others.
In 1992, a young man broke into the home of an elderly woman in Oneonta, and made his escape. The person was unidentified, only thought to be a young male, and it was decided by the victim that the perpetrator seen was African-American. Hartwick, SUNY Oneonta and Job Corps were then approached and it was requested that they deliver a list of registrants that fit the description as part of a criminal investigation. All refused but SUNY Oneonta; this event has gone down in our school's history as the Black List, which has become both a dark period in our school's past and a motivation to expand values and support diversity in the future.
In 2011, a documentary was screened in commemoration of the event. The documentary, entitled "The Black List," was originally produced by Oneonta alum Sean Gallagher in 2008, and features testimonies and interviews as well as a retelling of the event in '92. A group called the Students of Color Coalition hosted the screening. Two days later, a separate group named the Committee of Social Justice appeared before the SA Senate with a list of grievances, and the school has worked towards addressing their concerns.
President Nancy Kleniewski spoke first for the event last night, referring to West as an inspiration and listing his accomplishments before his speech.
West approached the podium to an eruption of applause from the nearly full Alumni Field House – more attendees were there than attended OHfest7 – and immediately began by thanking everyone involved. He spoke as if he was giving a sermon, preaching his ideologies to a more than supportive audience as he gestured widely with his hands and vocalized with great intensity every word he spoke. His topics ranged from Socrates to Jay-Z, asking everyone to recognize the racism within them that exists naturally, as well as anti-Semitism, homophobia, sexism and every other form of hatred and discrimination, and to actively combat it. He spoke of white supremacy that has existed throughout the century and has existed as far back as 400 years, but did not neglect to express his love for every human being. He spoke vivaciously of scholars from Sophocles to B.B. King, recognizing blues and funk musicians as well as praising spiritual excellence on top of intellect. West provided the most inspiration in calling those listening to "straighten their backs up,"; "Who's exerting the effort to fight against what has been deposited inside of us?" From mentioning his favorite musicians to effusing his feelings on the "ubiquitous commodification" in today's society, he often referred to history and expressed mostly words of encouragement, to "try to be a better person" and to enter the college setting with questions on every subject learned. The audience remained captive from beginning to end, giving a standing ovation as he exited the podium and stage.
Speaking of the event, Kleniewski expressed her excitement in the students' interest and involvement: "I was so happy that so many students came out for this; I think his message is really important for our campus, especially right now. Through the whole semester I think people will be talking about this issue; it's really nice to see so many people interested in social justice issues and inequality, especially in election year where we really should pay attention to a lot of these issues."
After his lecture, West spent more than 40 minutes speaking to eager students, giving out hugs and photographs, as well as words of support to everyone who wanted to meet with him. A student reception was held in the sky box of the Alumni Field House following his speech where refreshments were served, and he continued to speak with admirers as well as young students who circled around him hanging on every word.
In response to a question about how long racial stereotyping will persist in our culture, West said: "It depends on the quality of our response, but the beautiful thing is that right here, at this college, there's no doubt that the positive energy is strong and that this day is a testament to both the leadership and the students wrestling with this issue. That's why we're blessed to be here."