Katrina Steier, Managing Editor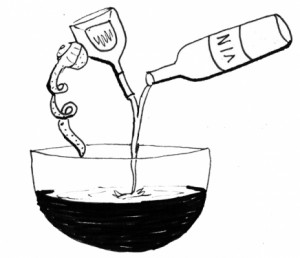 The Flaming Brandy Punch is the perfect hot beverage for gatherings in ill-heated Oneonta apartments. Your guests will be drawn to the intoxicating aromas of the spices and heated alcohol. Perhaps one the best aspects of making your own punch is the sampling you conduct while cooking. I assure you, the more you taste, the better it will be. Drinking entire test glasses is advised—you want to serve a drink that really packs a punch.
You will need:
1 1/4 cups water
1 1/4 cups (packed) dark brown sugar
2 cinnamon sticks, broken in half
4 whole cloves
1 4-inch-long strip orange peel
2 750-ml bottles dry red wine (you can get a big ol' sassy jug of merlot for 14.99; it works nicely enough)
1 cup fresh orange juice
1/2 cup fresh lemon juice
4 cups brandy (go with Korbel if you can)
1 whole nutmeg
Preparation:
Bring first five ingredients to boil in large pot, stirring until the sugar dissolves. Add wine; stir to heat through. Pour mixture into large heatproof glass, ceramic or metal punch bowl. Mix in orange juice and lemon juice. Holding ladle over punch bowl, fill ladle with brandy; carefully ignite. Pour into punch bowl and allow flame to burn out. Mix in remaining brandy. Grate some nutmeg over punch. Your guests will gravitate towards that bowl like moths to a flame.
illustration by Mary Cheung