Kate Koenig, Arts Editor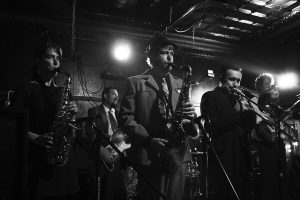 Last Thursday, October 13, The Upper Deck (formerly known as Sake Club) was host to a ska spectacular. Local favorites the Samurai Pizza Cats, and internationally touring acts Eastern Standard Time and Mr. T-Bone performed to an excited crowd of college students and provided upbeat horn-powered entertainment through the night.
The first to perform were the Samurai Pizza Cats, with a lineup including two trombones, a trumpet, saxophone and keyboards, in addition to the rhythm section. The Pizza Cats are comprised of SUNY Oneonta students and have been together now for a year and a half, and it showed through their apparent onstage chemistry. Their original songs didn't just recycle the same old patterns and horn riffs, but introduced original sounding ska that kept the crowd on their skankin' toes. Plus, they performed a range of covers that were a thrill to see backed by a horn section, including the Talking Heads' "Psycho Killer," Muse's "Time is Running Out," and Lady GaGa's "Bad Romance."
The second band to take the stage was Eastern Standard Time, originally from Washington, DC. While they started out as a sort of bebop ska-jazz supergroup, their current sound has laid back vibes mixed in, with healthy doses of soul reggae and rocksteady. Mr. T-Bone joined the band on trombone before headlining later in the show. Soulful vocals were provided by I-Peace Unikue as the group merged island rhythms with their jazzy grooves to create a ska sound like no other. Needless to say, the skaddicts were pleased.
The final set featured headliner Mr. T-Bone, who took over as singer and soloist. Signed to Grover Records along with Eastern Standard Time, Mr. T-Bone hails from Torino, Italy, and as his promotional merchandise exclaims, he's been providing ska, rocksteady and early reggae that gets your ass shaking since 1999. And that it did. The Upper Deck has rarely seen so many music industry majors and ska fans present in one night, and every last audience member experienced skaphoria as Mr. T-Bone delivered slammin' horn hits, blasts and pops.
The show was booked by Captree Productions, a recently formed company headed by SUNY Oneonta music industry major Frank Stark, who also sings and plays trombone for the Samurai Pizza Cats. Stark spoke of the importance of promoting the show in town, as neither Mr. T-Bone nor Eastern Standard Time had a big following in Oneonta "until this show," and it was the "first major event of this nature" for both The Upper Deck and Captree Productions. He wanted to give special thanks to the others involved in putting the show together, including Julian Nottage and Ashley Dean from the Music Industry Club and Mac Trainor from WONY, as well as the many other volunteers that helped. Anyone interested in booking shows at The Upper Deck or other venues this year should contact Stark at [email protected].