Mary Cheung, Head Illustrator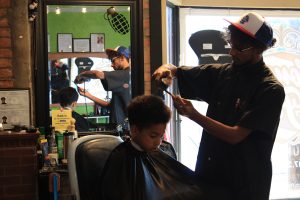 Whether it's highlighting your summer hair or preparing for the fall season, hairstyles and cuts can add a unique aesthetic to your wardrobe. If you don't trust your roommate to touch your precious strands or decide to abandon the DIY method, check out these local hair salons and barbershops downtown in Oneonta for a sheer experience.
Tina Marie's Salon [167 Main Street] has been operating for 17 years at the same location. Entering the calm and welcoming spacious atmosphere with huge windows overlooking a section of Main Street, haircuts, styles and coloring are available along with manicures and facial waxing. Owner Tracey Grippe and Amanda McCarthy are the stylists of Tina Marie's Salon where haircuts cost around $24. For aspiring stylists, they have booth rentals available. Tina Marie's is open 9 a.m. to 7 p.m Tuesday and Wednesday; 10 a.m. to 8 p.m. Thursday and Friday; 9 a.m. to 5 p.m. Saturday.
The Hair Chik [28 Chestnut Street] is open Wednesday to Friday from 11 a.m. to 7 p.m. and 10 a.m. to 3 p.m. on Saturdays. Owned and run by stylist Teela Falvo, the intimate and funky environment with walls painted in lilac can be your relaxing escape. Teela says that her clientele rotates every five years, and that generally she doesn't like college students because they don't show up for appointments. Aside from that, she loves 80s hairstyles: big and wild. Teela sees burgundies, brown, and reds as current trends, though most trends are determined by celebrities. Whatever the case, this peppy stylist can color whatever seems fit for your hair. It costs $25 for a cut with wash and style. For the gentlemen who come in, Teela refers them one block over to Crystal Palace Barbershop on 18 Dietz Street.
Hollywood Barbershop [20 Water Street] has been around since the 1930s. Back in the 1980s and 1990s, Hollywood Barbershop stayed opened at late hours on Thursday nights. Because of the change in nightlife, they are now open 8 a.m. to 5 p.m. Monday through Saturday. Barber Sandie has sixteen years experience, while barber Margaret has 30 years experience. Understanding their clientele, they only take walk-ins. Generally it costs $10 for a regular clipper cut.
House of Fades [19 Ford Avenue, Suite D] is a barber shop that takes appointments as well as walk-ins. Owned by master barber Nico Martinez, the shop opened just two years ago by the Dietz Street parking lot. Along with owning the shop, Nico has his license as a state board barber examiner. Currently he has taken two apprentice barbers in the house who sometimes handle walk-ins when he's booked up. With fresh and edgy decor complimented by a painted red mural and a room where skateboards and guitars adorn the walls, House of Fades' clientele varies from kids to students and older. They do edge-ups for $5 to $7, Caesars or fades for $10 to $15 and let you unwind with a complimentary Ithaca or Ommegang beer.
Mane Street Cutters [297 Main Street] also serves complimentary water, coffee, tea, beer or wine. The salon has been open since 1984 and still operates under the same owner, Bob Stineford, also having acquired partner Dayna Crossman in 2006. Bob is the barber, and his prices vary from $18 to 20. Aside from Bob there are nine stylists who are independent contractors. Two of the stylists were even taking classes at Bumble and Bumble. A woman's haircut can range from $27 to $30. Mane Street Cutters gets mostly student walk-ins, however, many clients come in with wedding parties. Just two weeks ago, three wedding parties had their hair styled at Mane Street Cutters. Although there is no spa, there is some facial waxing. They also work with feathers and tinsel. "I have a feeling perms are going to be a trend, but styles are all over the map," says Bob. Generally open from 9 a.m. to 6 p.m. or 7 p.m. Monday through Saturday. Depending on the stylist, Mane Street Cutters could be the place for that special occasion.
Don't anticipate a brand new do on Sunday, because all parlors have the day off. Though there were a handful of other salons and barbershops with Oneonta, the five featured in this article were the most accessible. Take some time away from the books to cater to your looks.