Ren Padilla, Contributing Writer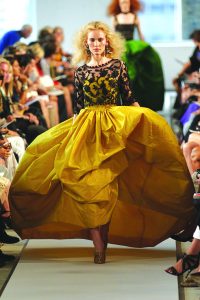 Fall is rapidly approaching here in Oneonta, but it was springtime in the fashion world with New York City's annual fashion week, a highly anticipated event during which fashion designers set the trends and show their creativity in their spring 2012 collections. They definitely did not disappoint! From Oscar de la Renta's flowing ballgowns with lace tops to the form-fitting, color-blocked garments of Narciso Rodriguez, it was a battle between soft and bold structured garments. In the majority of the designers' collections yellow seemed to be the most common color. In spring, we will continue to see bright shades of yellow, orange and neon green, as well as more color blocking (color blocking is fashion jargon for a technique in which colors are divided into distinct, solid blocks on an article of clothing). Some of my favorites out of the week are the designs of Oscar de la Renta, Vera Wang and Rodarte. All of these designers showed their talent for creating art out of their clothing while at the same time making it very wearable.
Oscar de la Renta took his inspiration from the 80s and transformed that idea into these magnificent dresses. "Various parts will appeal not only to women of different ages, but different types—proper ladies, debutantes, sex pots, even girls with a Bohemian streak," as described in Women's Wear Daily (WWD). His collection consisted of mostly light yellow but also had green, red and blue. All of his garments from his collection were very chic, flamboyant and elegant. As noted in the New York Times, "he had all the elements he needed in his clothes: in the airy skirts in marigold and emerald silk taffeta that opened his show on Tuesday; in gauzy bowed blouses that appeared with a silk knit suit; in a sweet, below-the-knee dress in white cotton voile and Battenberg lace."
Meanwhile Vera Wang created a fashion collection based on "Through the Looking Glass," so it was no surprise when she named her collection "Honor to Alice," the girl who went beyond the looking glass out of curiosity. "Her look focused on intricate bodice construction and layering of airy fabrics —opaque, transparent, piqued, otherwise perforated—cut and crafted with incredible attention to detail," as showcased in WWD. Her garments had a delicate and innocent look while keeping the powerful impact with the pattern which Wang describes as "trippy." All in all the collection seems to flow with a story behind it.
Rodarte, a brand founded by Kate and Laura Mulleavy, had a line inspired by Van Gogh's "Sunflowers" and "Starry Night." While most of the other designers had collections featuring patterns and themes that were inspired by external sources, Rodarte's faithfulness to Van Gogh was unmatched. It was as if Van Gogh's paintings had come to life and were walking down the runway. They kept the vibrant colors from the paintings and each of their garments seemed to have brushstrokes as if the model's garments were just freshly painted. Although it looks effortless, it's actually quite hard to construct each garment to be as form fitting as they are.
There were many other designers that were fantastic, but space does not permit. If you are interested in seeing more runway designs, be sure to peruse Women's Wear Daily. It is, after all, the bible of fashion.