Ren Padilla, Staff Writer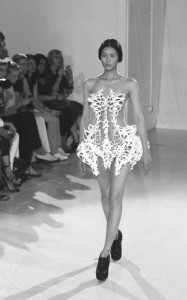 Imagine: it's Halloween, you walk into a party thinking that your costume is original and then you see it… someone is wearing the same costume. Oh the horror! Finding inspiration for a Halloween costume is sometimes incredibly hard. Here's an idea: get inspiration from past haute couture collections.
Haute couture fashion is like runway's Halloween. By definition, haute couture is the creation of exclusive custom-fitted clothing; it has always been about the artistry of clothing. We could say that the designer is showing off what he or she knows in a new and creative way. Haute couture collections let the designer create extravagant pieces with big fluffy skirts, bows, headdresses, big everything or even the opposite—sleek dresses that show the curves of a woman. Whereas ready-to-wear collections are made for strictly commercial selling potential, haute couture is made for mostly show, although, we do get some celebrities like Lady Gaga that dare to wear haute couture for award ceremonies or performances, i.e. the bubble dress. This dress, in fact, was originally made by designer Hussein Chalayan in spring 2007.
Iris Van Herpen is a new designer on the haute couture scene. Her collection from fall 2011 was unique and innovative. One design that struck me as great inspiration for a Halloween costume was a dress that looked almost like a human skeleton. You could attempt to create this look by wearing a nude body suit or dress. Then, out of white construction paper draw out a skeletal form; you can even follow the same pattern as Van Herpen's dress. Cut it out and glue it onto the nude body suit or dress. To give this costume more of a 3D look, add some construction-paper-looking bones to the sides so that it sticks out to exaggerate the hips and give an hourglass figure. It will look like you're just wearing a skeleton. So there you have it—you'll be a sexy skeleton.