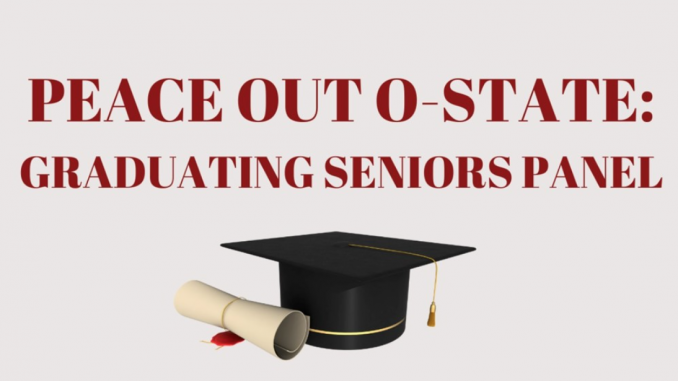 Casey Ryder, Staff Writer |
Last Thursday, on Apr. 7, a panel of graduating seniors shared their experiences at SUNY Oneonta at an event titled, "Peace Out O-State." The panelists offered up their strongest advice to underclassmen, as well as reflected on their time at SUNY Oneonta. o
The panel was moderated by Student Association (SA) Chief of Staff Rachel Dobkin and Executive Vice President Lena Schorr. Schorr got the conversation started by asking panelist Jena Schultz what the biggest learning curve was in moving from high school to college. Schultz answered by saying that the biggest adjustment for her was the study patterns she needed to adopt because the classes got more difficult in college. 
Following that, Dobkin asked another member of the panel, Gabriella Markgjonaj, "What did you wish you knew earlier or wish you took part in or accomplished that you hadn't?" Markgjonaj is a Fashion Merchandising major and said that she wishes she had gotten involved with more clubs related to her major as doing so could've cultivated relationships between herself and other like-minded people.
Later in the discussion, Schorr asked one of the panelists, Madison Schneider, what she would tell her freshman or underclassman self. Schneider responded by saying that she would advise her younger self to try and expand her social circle. She said that she came to Oneonta primarily because of her best friend and that she mainly just stuck with her and in retrospect, she wishes she hung out with a wider variety of people. 
The class of 2022 was heavily impacted by the COVID-19 pandemic. Due to the pandemic, the seniors were sent home during the spring semester of sophomore year and all classes during their junior year were remote. In what was the last question of the evening asked by the moderators, Schorr enquired if anything good came out of the pandemic for any of the panelists.
Nicole Gilsenan is a Childhood Education major and said that while the online learning was challenging, it taught her some things that could be valuable to her in case she will have to teach her class online in the future. Maggie McCann on the other hand said that coming back after a year of being away gave her a greater appreciation for Oneonta and made her realize how much she enjoys being here. 
Dobkin and Schorr were very pleased with how things unfolded. "I think it was nice to both reflect on the great experiences at Oneonta but also kind of critique constructively about things that could've gone better. I think it was especially hard for our class and the classes before and after us because of COVID, so I liked that element of having people speak about that diverse experience and what they're gonna do next with it," said Dobkin.
Schorr shared Dobkin's sentiments and said, "I think the panel did really good. I liked how we had a different mix of students from different organizations speak about their experiences and like what Rachel said, I think it was good that they touched on COVID because this was a major part of their college career and how it affected them."