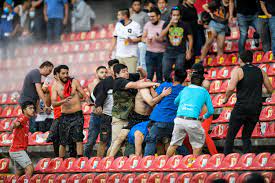 Casey Ryder, Staff Writer |
On Saturday, Mar. 5, a Liga MX soccer match between Queretaro and Atlas was suspended after violence between fans that initially began in the stands poured onto the field of the Estadio Corregidora in Santiago de Queretaro, Mexico. The violence left 26 people injured with 3 being listed in critical condition. As of right now, no deaths have been reported.
The game was first suspended in the 63rd minute when fans began running onto the field to avoid fights that were happening in the stands. At first, match referee Fernando Guerrero suspended the match in the hopes that things could settle down. However, as the violence spread to the upper bowl of the stadium and as more people ran onto the pitch for safety, he was forced to end the game altogether.
On social media, grotesque images and videos went viral showing what had taken place. One video showed a topless man being beaten while lying on the ground while other videos showed people being dragged across the concrete outside the stadium while being beaten and having their clothes ripped off.
Perhaps most saddening were the images of children running with their parents looking for safety. In one video in particular, a mother had to rip off her son's Atlas jersey as they were leaving the field so that he wouldn't be attacked by the Queretaro fans.
The events of March 5th have garnered a response from a wide variety of people including Liga MX officials, Mexican politicians, and fellow athletes.
Beginning with Liga MX president Mikel Arriola who said in a statement on Twitter that the violence was "Inadmissible" and that there would be "Exemplary punishments" handed out to those who were responsible for what took place.
Likewise, Mauricio Kuri, Governor of Queretaro state, said on Twitter, "I strongly condemn today's violence at the Corregidora Stadium… I have given instructions to apply the law with all its consequences."
Finally, Mexican National Team star Edson Alvarez before a game with his club team Ajax in the Netherlands wore a shirt during warmups that read "No mas violencia" meaning "No more violence" which has become a slogan used by many in response to what took place in Queretaro.
So far 14 arrests have been made. All 14 suspects are male and face a variety of potential charges including violence in a sporting event and attempted homicide.
In addition, it was announced by Liga MX on Tuesday, Mar 8, that Queretaro will be forced to play their home games with no fans for one year and that the barras supporters' groups of Queretaro will be banned for three years.
Despite these hard actions being taken, the events of March 5th have called into question the ability of Mexico to host sporting events going forward. In particular on March 24th the United States men's national team is scheduled to face Mexico in a crucial world cup qualifier at the Estadio Azteca in Mexico City with fans in attendance. However, on March 10th the U.S. Soccer Federation released a statement saying that they have received assurances from Mexico Football Federation that fans, teams, and players will "safely experience" the game.
Mexico is also a co-host of the 2026 world cup along with the United States and Canada and some have questioned whether or not they can still host following these tragic events.
What impact this will have on Mexican soccer going forward remains unclear. What is for certain, however, is that the images that came out of March 5th's events were horrifying and will be a stain on the reputation of soccer in Mexico and in North America for the foreseeable future.