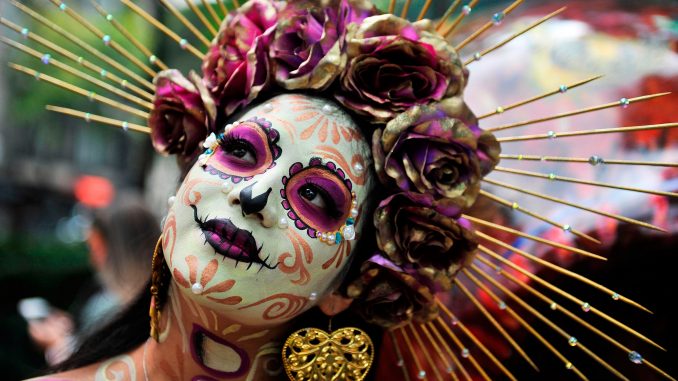 Rachel Dobkin, Culture and Business Editor |
Halloween is just a few days away and so is Día de Los Muertos, or The Day of the Dead in English. Although both occasions are great traditions to be celebrated, it's important to think critically about the impact capitalism has had on holidays like Día de Los Muertos.
Like most major holidays, Día de Los Muertos has been commercialized and oversimplified in not only American culture, but Mexican culture as well. The lines of Halloween and Día de Los Muertos get blurred and it's not just because they are close in dates (Halloween on Oct. 31 and Día de Los Muertos on Nov. 1 and 2).
We have also blurred these lines in the market. Companies like Target and Party City advertise sugar skulls as Halloween décor when it is meant to be the symbol of a departed soul. Halloween candy bags have sugar skull art on them, and people paint their faces with sugar skull makeup on Halloween. Our capitalist system feeds money into party décor that will end up in landfills instead of education on diverse cultures and their traditions.
Día de Los Muertos is supposed to be about honoring and celebrating the dead with altars, grave visits, and family gatherings. But our global capitalist system tries to commodify everything. They have done it with basic rights like water and even sex with sex work. Now we see it being done with the commodification of departed souls. This can wipe traditions from the Mexican culture. Even in Mexico, Día de Los Muertos meshes with Halloween traditions like costume contests.
Another way we can look at its commodification is through cinema. Everyone loves the Disney Movie "Coco", right? But "Coco" is only a snapshot of the culture. Sure, there are accuracies with holiday traditions, but these traditions have changed throughout space and time. The movie oversimplifies Día de Los Muertos, but it does make a culture accessible to children and those who are uneducated in Latinx culture.
I am less concerned about the film's content and more about the film's profits. The film made 807.8 million USD and none of it went directly to the Mexican economy. I can't help but think of this as a way that the economically and culturally privileged made a profit off the marginalized community, which just reinforces the western power over the Latinx people. I also see a lack of representation behind the scenes. Although the lead voice actors are Latinx or have Latinx heritage, the animators were just a bunch of white men, and the rest of the cast was a mix of white and Asian people. This was a missed opportunity to give the Latinx community more representation in the world of cinema.
Although there are a lot of bad things that can come out of the commercialization of any major holiday, there is also some good when it comes to Día de Los Muertos. The increased popularity of the holiday does give some space to the Latinx community. Commercialization also educates both American and Mexican people, especially the younger generation on Latinx culture. Although I have given critiques on "Coco", it does help educate children in a fun and simple way which is a good start, but more needs to be done to keep the tradition alive and not combine it with Halloween.
Let's remember that Día de Los Muertos is not about us. It's not about how we can make money. It's about how we can honor the dead. Saying all this, I am a white woman. I do not know everything about Día de Los Muertos or Mexican culture, in fact, I am trying to educate myself as well. Many of my ideas came from others who are a part of the Latinx community, but I am here to start a discussion on this issue, and I hope we can all educate ourselves a little more on the true celebration of Día de Los Muertos.