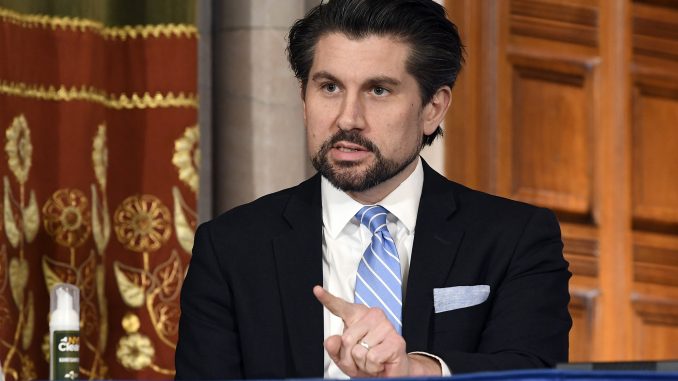 Rachel Dobkin, Business and Culture Editor |
SUNY Chancellor Jim Malatras paid a visit to SUNY Oneonta on Wednesday, Oct. 20th. He wanted to talk with our administration, student leaders, and other members of the community about mental health in hopes of helping students carry on through the pandemic.
Malatras was proud of our efforts considering that there are few large SUNY schools to have in-person classes like SUNY Oneonta. He said it "feels good to be in person." We have taken extensive measures to keep everyone safe including a vaccination policy, regular testing, mask-wearing, and other guidelines for various events, and it has not gone unnoticed. Malatras said the "community at Oneonta did a great job."
Although our restrictions have kept us safe, including when we had to be online for 18 months, it has also done a lot of damage to our mental health. "Students were surviving college, not thriving in college," said Malatras. I'm sure we can all relate to this quote. The Chancellor sees the vaccine as a "way to get beyond that."
Although our school is declining in enrollment, Malatras does not accredit this to our vaccination policy, in fact very few students were disenrolled and many complied with the policy at SUNY Oneonta. This decline is actually nothing new. Institutions across the SUNY system have seen this decline even before COVID-19. Malatras wants to focus on what the students need now, especially students of color who tend to have a low retention rate.
If disenrolled students do decide to get vaccinated, then the SUNY schools will welcome them back according to Malatras. He said that SUNY schools have been very lenient and helpful when it comes to the vaccination policy, as long as students try to work with them. Malatras said this is "not about punishing students."
Malatras is serious about mental health and so is the SUNY system which invested 24 million dollars into mental health services. SUNY also has a Student Voices Action Committee that looks at issues like mental health. A big concern now is the anxiety of being back in person. The committee holds 27 spots for student representatives, which makes for an inclusive environment where student voices matter.
SUNY is also planning a Mental Health and Wellness Committee which will hold student representatives. This committee will solely focus on issues that our campus desperately needs.
Not only is our health center completely booked, but now so is our counseling center. Students have to wait weeks to get appointments and walk-ins are only allowed for crisis intervention. The work that Malatras is doing is great, but we need results now. If you are a concerned student, faculty member, or any member of the campus community please reach out to the Student Association Chair of Health and Wellness, Aolat Salami, via email at [email protected].
"Although it may look like we are at a stage where it's too late for prevention, I do think it's important to look into prevention methods because unexpected situations like the pandemic are likely to come up again," said Salami.