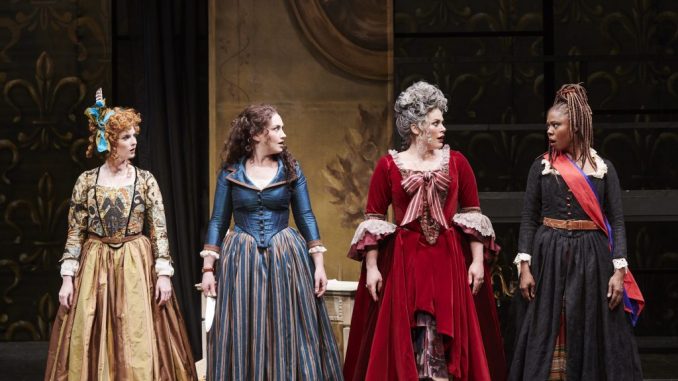 Lara Murray 

There is nothing like going to see a good play over the weekend but being away from home makes it hard for students to go to the theatre. Never fear, Oneonta's Theatre Department has big plans this year. The Revolutionists is the first play to be performed, opening the doors to an exciting beginning for all the aspiring actors and creative crew on campus.
"Sometimes a revolution needs a woman's touch." The Revolutionists, a play written by Lauren Gunderman, surrounds four historical women, Olympe De Gouge, Charlotte Corday, Marie Antoinette, and Marianne Angelle, who are brought together by their fighting spirit for equality near the end of the French Revolution. It's a historical fiction with humor and self-assurance added to its theme. The play opens with the execution of one of the females leads but cuts it short by making a joke about how dramatic an execution is for an opening and takes us to Olympe De Gouge's house where She is struggling to write her next play. Olympe is interrupted by her friend Marianne Angelle who has come to ask her to write a pamphlet about the importance to end slavery. Not long after, Charlotte Corday arrives in hopes of Olympe helping her figure out what she should say after murdering Jean-Paul Marat. The final woman to enter is none other than Marie Antoinette herself, coming for "a rewrite." While hearing their stories and getting to know their characters, Olympe takes this opportunity to write the women into a play and their actions. The four women also come to a revelation that society always treats them unfairly, shapes them into their own image of a woman, and how misunderstood they are.
The play also shows Olympe's fear of taking a stand for society's wrongs and the absence in her friends' executions, which takes a drastic turn when Marianne learns of her husband's death and calls out on Olympe's fears. Finally motivated, Olympe writes a play about her friends and the society they live in which lands her on trial for treason and she is sentenced to death. The final scene takes us back to the opening of the execution, and as the play nears its end, Olympe is accompanied by the memories of her friends and reflects on how they are actions hold a purpose for the future of women. This warm feeling calms Olympe before she dies.
Even though these women never met in real life, the question of "What if…?" drove Lauren Gunderman to author this moving story and have Oneonta produce it. Scene after scene we're reminded how hard it is to stand up for what we believe in and how humane all the women were. Audience members were left in tears and with the desire to make a difference. They left
audience members with the same warm feeling of how far we have come from being held back and how we need to continue the past's legacy. So, with that I say, Oneonta's got talent!