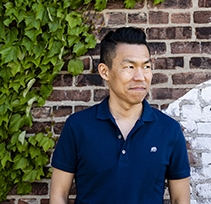 Lara Murray 
Readers like to call books doorways to another world to escape the reality they're in. Something we need once in a while. Page after page we dive deeper into the story and can't imagine life without it which is why authors become best-sellers and award winners. Besides giving all their gratitude to the fans, they take great pleasure in telling them their motivation and inspiration behind the novel. It seems easy to write a book from a different point of view, but the truth is it's a challenge. It takes time and patience. Oneonta's Red Dragon Reading presented this knowledge to students this year with Jack Wang, author of We Two Alone: Stories. The book is a collection of six short stories about the Chinese diaspora around the world over the past century.
Oct. 28 marked the first Red Dragon Reading at Oneonta since the pandemic. The event opened with an introduction from Roger Heck, one of the teachers in the English Department. He gave us a little background on Jack Wang, a graduate from Florida State College and winner of numerous novelist awards. Wang worked at Ithaca College for fifteen years and became a department chair for quite some time.
Jack Wang revealed We Two Alone: Stories' Canadian edition came out Sept. 1 and since then he's been doing a lot of readings from his bedroom, which was why it was an absolute pleasure for him to be there with us. During the event Jack Wang planned a presentation to give us a sense of the collection as a whole. He used various photographs of people, places, events, and scenery that motivated him in the stories' direction, as well as to give us his process, research, and a sense of him too.
The first image presented is of a Chinese laundry from 1902 which drew a lot of inspiration for him to write the first story titled "The Valkyries", set in Vancouver 1921 following the life of a Chinese laundry boy named Nelson. "The idea of a Chinese laundry boy is not totally unfamiliar. So, I wanted to complicate that image by setting him off to do something unexpected," says Jack Wang. Which he did by taking young Nelson to try out for a hockey team, but because of his race he's ostracized. So, this made Nelson decide to dress up as a girl. Through a series of historical images of hockey games and hockey players, Jack Wang pieced together his first part.
The next image is of Vancouver's Chinatown's playground in 1920 which inspired Jack Wang to write about lifelong friends turned lovers for the second short story called "The Nature of Things", surrounding a couple Alice and Frank Young. Frank struggled in his practice to be a
doctor because the Chinese didn't have the franchise in the 30s. He couldn't join a professional society. With that Frank landed a job at a hospital in Shanghai, which then made them a part of the second Sino-Japanese War. "So you know, everything in this story I've described so far, all of these characters that were invented against the historical backdrop. But I did whine up writing a little bit of family history," Wang told audience members. Jack Wang showed a picture of his maternal grandparents in the 1940s. He went on to say that his grandmother lived through the Chinese invasion and the actions the characters took in this section were based on her experiences.
Wang's next inspiration was from his first trip to Mainland China during The World Expo in Shanghai in 2010. He went to the Israeli Convillan where he saw people surrounding a plaque thanking a diplomat man named Ho Feng Shan for giving Jewish immigrants passage to Shanghai during WWII. With a great deal of research "The Night of Broken Glass" was written. "I had trouble telling his story from his point of view. I ultimately told it from his son's point of view," says Jack Wang. He then showed a picture of Ho Feng Shan, his son, and his family. "And he became something of a prominent scientist in the USA and he wrote a very obscure scientific memoir. I love these obscure memoirs as a basis for research."
After finishing his presentation, Wang read a section of We Two Alone: Stories. In the scene a husband and wife argue about the possibility of having a baby and the past choices they've made to bring them to where they are now, bringing to light how important communication is in a relationship and how something must give on each end. A compelling read it was, leaving the audience amazed.
When asked for any advice for people with a creative talent, Wang had the best response. "Well, Gustave Flaubet once said, 'Talent is a long patience, and originality an effort of will and intense observation.' So, the idea is you know we're not born a genius, we're not a genius. But it's something we can work at and get better at. We can't will ourselves to the success we want, but talent is ultimately a long communication range. Patience to work constantly at what we love doing."
Keep your eyes and ears plead for the next Red Dragon Reading event, which is a secret! But they promise it to be amazing.