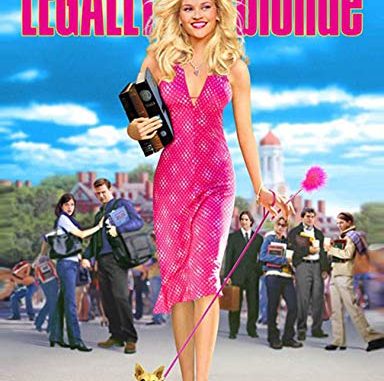 Chelsea Sookra 
We'll all heard of "Legally Blonde" (2001), the movie about the "dumb" blonde turned Harvard law student to win her boyfriend back. It is actually one of my favorite movies. In case you don't know the plot by heart, I rewatched it on Thursday, Sept. 30th, with SUNY Oneonta's film club in the Red Dragon Theatre.
Elle Woods is in a happy relationship with Warner Huntington III and thinks she will be proposed to, but he breaks up with her because she's not "serious" enough. Heartbroken, Elle decides to apply to Harvard Law School where Warner is going. Everyone thinks she can't get in because it will be too hard for her and she should stick to something else. Elle gets a 179 on the LSAT and blows away admissions, getting herself accepted. Upon arrival, everyone is judgmental of Elle, thinking she doesn't deserve to be there either. Elle deals with this transition and starts doing well with the help of Emmett, the junior partner of Professor Callahan, one of Elle's professors.
Elle, Warner and Vivian, Warner's fiancée, are offered a chance to work on a murder trial with Callahan. It is believed that Brooke Taylor Windham murdered her husband and everyone thinks she is guilty besides Elle. Elle sets out to discover the truth while getting nowhere. Professor Callahan hits on Elle and tells her she only got the internship because he was attracted to her. Elle is about to give up on law school until Brooke, Vivian, and Emmett come up with a plan to fire Callahan and make Elle Brooke's new representation. Elle ends up catching Chutney, Brooke's stepdaughter in a lie and she reveals she murdered her father. It was because of Elle's knowledge of haircare, something that many lawyers don't have.
The movie ends with Elle's graduation where she is the class speaker and graduated with honors. Vivian broke up with Warner and is best friends with Elle. Warner graduated without honors, a job, or a girlfriend. Emmett ended up opening up his own firm and is going to be proposing to Elle.
"Legally Blonde" in my opinion is a movie about feminism and breaking societal and gender norms. Elle strives to consistently beat the stereotypes placed against her. The film club had similar thoughts during their discussion.
It was noted that the same song, "Perfect Day" is played at the beginning and the end of the movie signifying different goals, where at the beginning Elle's goal was to be proposed to and at the end her goal was to become a lawyer. The scene where Elle questioned Chutney was also well liked because of how unique that experience was and many lawyers wouldn't have figured that out. Elle was unsure, then became confident and finally "trapped the witness."
The discussion ended off with talking about how rom-com movies like "Legally Blonde" aren't made anymore despite them being so good. Rom-com movies were predominantly targeted to women and used as a counter program in theatres, where boys would go see the action movies and girls would see the rom-coms but today, everyone loves action movies. The past twenty years have not done rom-coms justice, so hopefully we could bring them back.