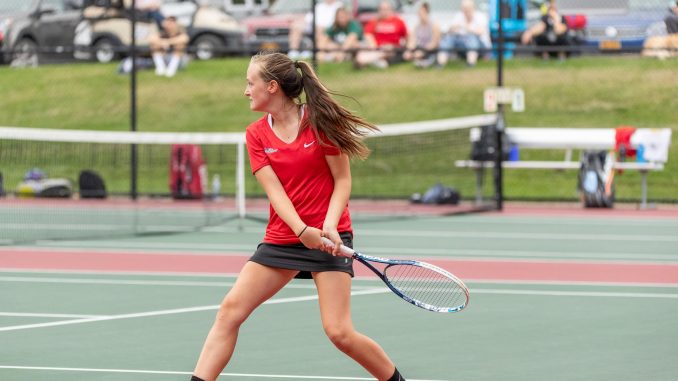 Chelsea Sookra, Staff Writer
The Red Dragon ladies are back at it again, blowing us away on the tennis courts!
The Women's Tennis Team had another successful day on the tennis courts, sweeping the hosts in a doubleheader. With these two victories, the tennis team is now 5-0 for the season.
SUNY Farmingdale was the day's first victim, with the Red Dragons shutting out the Rams 9-0. At the first flight, Julia Holtermann from Staten Island and Maxie Karen from New York, New York doubled up their opponents 8-4. Oneonta has a 5-match winning streak against Farmingdale since 2016 and in total have won 6 games and lost 3 against them. They were obviously no match for our Red Dragons.
Sophia Schutte from Great Neck and Brianna Shaw from Staten Island both won 8-5 in the second position as sophomores. In the third spot, junior Jessica Harris from Cobleskill and senior Sarah Sampson from Albany had little issue defeating their opponents 8-3.
The Red Dragons opened conference play with a long rain-delayed game against the SUNY Plattsburgh Cardinals in the nightcap. Oneonta's 10-hour day on the courts culminated with the Red Dragons scoring their first conference win of the season with a 7-2 victory, putting them at 5-0 overall and 1-0 in conference play. The team has had a winning streak against Plattsburgh of 11 games since 2012, so it's pretty on brand that they got this victory. In total, they've had 21 wins and only 1 loss against Plattsburgh.
At the first and second flights, the Red Dragon doubles lineup won both games. Olivia Fraser from Queensbury and Rebecca Macdonald from Brooklyn both won 8-1 as seniors.
The Rams were unable to overcome a 3-0 deficit after doubles for the Red Dragons. The six singles openers, Schutte, Karen, Shaw, Holtermann, Sampson, and Harris, all defeated their opponents in straight sets, losing only 17 games in total.
Going into singles play, the Red Dragon ladies were up 2-1.
The Red Dragon Express was not deterred by two rain delays. Fraser, Carswell, Macdonald, Wilson, and senior Brianna Harman all won straight sets in the dual match, resulting in a 7-2 victory.
Houghton College and Utica College will visit the Red Dragon campus on Friday, Sept. 24th at 4:00 p.m., giving the SUNY Oneonta women six days of well-deserved and well needed rest.
Keep rooting for our lady Red Dragons as they continue their season! They'll need all of your support to keep their unbeatable season. These ladies have worked so hard for their season and deserve all the credit! If you're interested in seeing more of our fabulous women's tennis teams, you can check out their schedule on the SUNY Oneonta athletics website to keep updated on their home game schedule.
Keep up of the hard work lady Red Dragons! We're so excited to see what the rest of your season has in store!