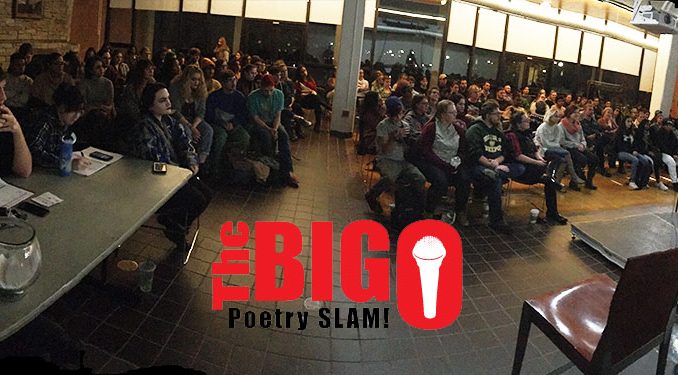 Alexa Di Palermo, Staff Writer |
As someone who enjoys writing, understanding, and listening to poetry, going to the Poetry Association's "Big O Poetry Slam" was an absolute must for me. I can say that it is a great decision to go. Even those who don't like poetry can truly enjoy this event. There were many things about it to like.
As soon as I walked down to the event, I heard inviting music coming from the room. Everyone was kind and welcoming. I immediately knew this was a safe space. The room was very comfortable and people were introducing themselves, talking to each other, and getting ready for the event. I was even asked to judge! There was even someone kind enough to lend me their pen so I could do so.
When the event started, we were all told that this was a place where you are free to express your emotions. It was made clear that if we felt the need to leave, clap, snap, or cry at any instant we were free to do so without judgement. It was a safe space for all.
We heard pieces that resonated with many people, even me. First, we heard a poem from a student about a butterfly, making them question what poetry meant to them. As someone who holds poetry close to their heart, I enjoyed hearing this. I even asked myself the same questions that were stated in the poem. "What does poetry mean to me?" Everything.
Then the featured guest, Michael R Brown. Brown has published a variety of writing, poetry, fiction, travel articles, and more. We got to hear pieces from his published works about all different kinds of subjects. The one that stood out the most with me was about his memories of his mother. His words described these events to the point where I could imagine and feel it from an inside perspective.
The audience also had the privilege of hearing two talented students share their work. Both students had three minutes to perform. These poems were written by them and could only be performed in their structure with their voices. There were no props allowed, just themselves. Five people from the audience, including myself, got to rate their performances.
Both pieces were written with so much feeling. They described things like a house being a home, or something being too close yet too far and I felt the emotions behind it. Their words were descriptive, emotional, and moving. I gave them both high scores because they deserved it. Sharing such deep emotion deserves praise.
Lastly, we heard from Brown again. He told us, in real terms and in good wording, what he's been doing this whole time. What memories stuck with him from his life, what memories being a teacher gave him. There was also the opportunity to buy his books!
In the whole process, I was even able to win a prize during a game. Luckily, I'm a fan of The Killers and was able to notice their lyrics right off the bat. Who says screaming "Mr. Brightside" every time you hear it doesn't pay off?