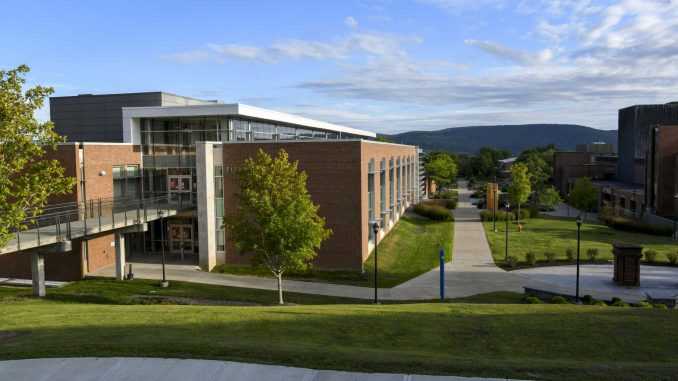 Abigail Hubbard, Editor-in-Chief |
After a year and a half of online learning, SUNY Oneonta is back to in-person classes. While a few classes are still being taught online or asynchronously, many students are back to learning on campus. Walking into my first in-person class in IRC was strange. Being around other students and getting to see classmates and professors in person again was surreal. I had become so used to simply turning my laptop on to go to class. I was surprised by how quickly I got used to in-person classes again. I figured that it would have been a harder transition than it was, given how long I had spent in online classes.
When I heard that we were finally going to be back on campus for the Fall 2021 semester, I was so excited. I was sick of learning from home. I was actually looking forward to sitting in a classroom! If you had told quarantine-me, laying on her bed with a blanket, hot chocolate, and a snack during Roman Literature class, that I would be excited to sit in a classroom again, I would have laughed. Why would I want to go back to sitting in a hard chair with a tiny desk for an hour when I could learn just as easily from the comfort of my own home?
Online learning was fun at first, at least for me. I liked being able to learn from home. I could attend class from my comfortable bed and eat whenever I wanted. It was like paradise. The enjoyment wore off quickly, though. It was very impersonal, only being able to interact with classmates and professors through a camera lens. It was hard to make connections and get to know everyone. Group projects were incredibly difficult because we could only communicate through text or email outside of class. I felt isolated. I was having trouble paying attention in a lot of my courses. I am someone who gets distracted very easily as it is; online learning only increased that for me. I have heard other students talk about these same problems with online learning. It was easy to get distracted which made learning difficult. I know that a lot of us are thrilled to be back in person this semester.
Being back on campus doesn't mean going back to normal, however. We all have responsibilities to keep each other and our community safe. Wearing masks during class isn't fun, but it is necessary. We all must do our part to protect ourselves and each other. We are lucky that we can go back to in-person classes considering what happened in the fall of 2020. Being irresponsible now is simply not an option. Online learning took a toll on the mental health of a lot of people. Even professors struggled with the switch to online. It was a difficult time for everyone and no one wants to repeat that.
I am so grateful that SUNY Oneonta was able to get us back on campus for the Fall 2021 semester. Go out and enjoy the perks of in-person classes! Join clubs, go to events, have fun! Just remember to be responsible. We're all in this together, Oneonta!