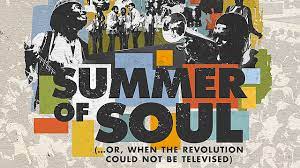 Alexa Di Palermo, Staff Writer |
The Red Dragon Theater is back with new movies and complimentary popcorn! To kick off the new semester of showings, the theater played "Summer of Soul" this weekend.
Last Sunday on Sept. 5th, I went to see a movie in our campus' very own theater. The new film, "Summer of Soul" released this past July, takes place in the summer of 1969, the same summer as Woodstock. The film had footage from the Harlem Cultural Festival in Mount Morris Park. After the festival, the footage was hidden in a New York City basement and never seen until now.
For free, 300,000 people got to see artists like Stevie Wonder, B.B. King, The 5th Dimension, the Staple Singers, and more. The festival was a party atmosphere. The audience of the music festival said it was a great experience. People remember standing in the sun, eating good food, and listening to good music.
The audience of the music festival had smiles on their faces as they looked back on these precious moments. They felt safe, they felt exhilarated, they felt amazing. Seeing them reminisce and be grateful for the time they had made the whole film better.
The film shows the true happiness of everyone who was there, even the artists. The 5th Dimension and their song, "Aquarius/Let the Sunshine In," rose higher throughout the charts. During the artist interviews in the film, you could feel the happiness that the members of the group felt, despite the hate they received. It emphasized the importance of this event and it was extremely wholesome to see the smiles on their faces.
The film audience not only got to learn about the music and those who attended the festival, but more about the history of what went on that year. From the Civil Rights Movement and the assassination of Martin Luther King Jr. to the Vietnam War to Woodstock. We got to see sides of these events we may not have been able to learn in a high school history class. The film audience got to see the people who lived through it, and how they were feeling in the summer of 1969.
With little to no money, those who participated in the Harlem Cultural Festival managed to make the best memories they could ever have. You should add this movie to your watchlist. So, if you have the time, kick back and enjoy the music. There is so much beauty to these films.