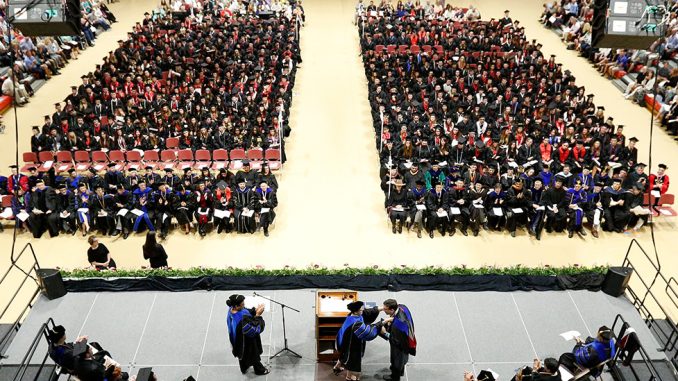 Rachel Dobkin, Staff Writer |
SUNY Oneonta recently announced that in addition to its virtual commencement this, Class of 2021 graduates will have the opportunity to participate in an optional stage crossing on May 5 and 6. This is an opportunity for all graduating students to cross the stage in their regalia , have their name called and a photo taken. According to the SUNY Oneonta website, this will be a graduate-only, reservation-required occasion that will adhere to campus health and safety guidelines. The stage crossing will be live-streamed and recorded so their loved ones can watch. No guests will be permitted to attend in-person.
Graduates will be able to choose from several time slots during the two days and each stage crossing will last about 10 minutes. Full details and the registration form will be out soon. Administration stresses that this event is not guaranteed as it is dependent on campus COVID-19 testing results.
According to the SUNY Oneonta website, the virtual commencement will feature recognition of individual graduates, remarks from campus leaders and the official conferral of degrees. Each graduate will receive instructions on how to personalize their slide for the virtual ceremony. They will also receive a celebration box containing commencement-related gifts to help enhance the at-home celebration.
Usually, SUNY Oneonta graduates participate in the 125-year-old tradition of "Passing Through the Pillars," where they pass through the pillars that still remain from Oneonta's original building, Old Main. As freshmen, students pass through the pillars in the direction of the quad, symbolizing a welcome to their new home, and as seniors, they walk back through the pillars in the opposite direction symbolizing that their Oneonta journey has come to an end. As freshmen, students get ice cream to celebrate this tradition, but as seniors, you are given champagne. During last semester's virtual commencement, students received champagne glasses to emulate the tradition, so it is likely that this semester's graduates can expect them in the gift boxes.
The college will hold four virtual commencement ceremonies based on academic major. The School of Economics and Business will hold commencement at 9 a.m., followed by the School of Education, Human Ecology, and Sports Studies at 11 a.m., the School of Liberal Arts at 1 p.m., and the School of Sciences at 3 p.m.
Commencement is a huge deal for graduating students, their loved ones and the entire SUNY Oneonta community. Although the college says it is working hard to organize an experience that "acknowledges our graduates' years of hard work and significant achievements," according to the SUNY Oneonta website, seniors still have mixed feelings.
Communications and fashion and textiles major Nicole Kurzweil said, "I feel like it could be planned better to have a ceremony in-person because many other high schools and colleges are having more than what we are doing. I'm still happy that we're doing something in-person and I'm definitely going to take advantage of it and I'm happy I'm going to get some sort of closure, but I wish faculty could have done more for the seniors. With the vaccine roll out by next semester I can't imagine there not being an in-person ceremony by May."
"I appreciate the effort that was put forth with letting people have some sort of commencement in-person. However, for me, it's not good enough. It feels like the bare minimum is being done in order to save face from what happened to Oney in September," said Jakira Cole, a communications major with minors in business economics and communications.
Communications major Mercedes Edwards said, "I think the most recent decision to give graduates the opportunity to walk the stage is good for those it benefits, but unfortunately there are plenty of seniors that can't take advantage of the opportunity. While still trying to understand the school's need to protect their image from the outbreak, I understand they feel limited, but we deserve better and it's unsettling that they think this is the best they can do."
For more information on commencement including a commencement checklist for seniors, go to https://suny.oneonta.edu/spring-commencement.